BV's extended road trip
Winamac, Metropolis, Muncie

29 June to 10 July 2000
It seemed like an excellent opportunity to escape the heat and humidity of central Florida, so we loaded 5 jets into the trailer and headed north. Mitch Weiss was a day ahead of me in his new diesel "Excursion" and trailor full of his jets. We had some fun comparing the relative attributes of the Chevy Suburban 2500 (454 cu. in) and the Excursion as tow vehicles.

Just over a thousand miles later I arrived in Winamac, Indiana for the 5th annual "Jets over the Heartland". This is home for some very active jet flyers like Tim Redelman, Steve Gabrys and Ralf Braun and their club field reflects the jet activity. A huge paved runway, taxi way, observation tower and kitchen equipped club house and grandstands is set in a picture perfect Midwestern agricultural location that allows unrestricted jet flying.

This all happened by the good graces of Ralph Braun who enjoys sharing his accomplishments with his modeling friends. Ralph purchased the land, and then donated it to the county with the specification that it be used for recreational modeling.

The weather was cool, clear and perfect for the 44 pilots in attendance. Not a single crash occurred during the 3 days of very active flying.

A nice mix (about 50/50) ducted fan and turbine jets entertained the grandstands filled with local spectators.

Tim Redelman, BVM's area rep was busy helping a lot of our customers get successful flights on some new jets while Steve Gabrys, the flight line organizer, managed to get some very nice flights with his MiG-15.

Personally, I thoroughly enjoyed the opportunity to fly my Blue Angel F-4, Rafale, Bandit and MiG-15. Skeet Hunt flew in from Reno to observe the event and was a great assist in helping me on the flight line.

The photos may help show what a great event this was. Thankfully, the facility can handle more pilots because the word is out, "Jet modeling in the Midwest is growing."
Brad Long is assisted by Sherry Betzer during one of his many Maverick sorties.
Two views of the very active pit area. Hope we didn't hurt the grass too much, it is well maintained and nice to work on.
Roman Myrdacz won the best finish award with his brand new AMT AT-180 powered Bandit. The art work, (by ProMark) and craftsmanship were excellent. Many successful flights were posted by this reliable combo.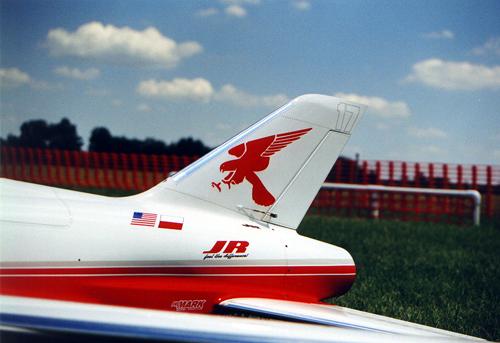 View of the spectators, some in the bleachers, and the clubhouse with observation deck. The weather was perfect - check out the white puffies!
The "Honeymooners" Rosemarie and Frankie Mirandes celebrated their 10th anniversary at Jets over the Heartland. Frankie flew his RAM 750 powered Bandit multiple times, Rosemarie went shopping, is there any other way?
Marshall Emmendorfer and Jack Swindt enjoyed the activities with a Viojett powered BVM T-33 and F-86 Sabre jet.
Midwest trip to be continued ................