Florida International Jet Rally 2000
Many of the 55 pilots who attended the 7th annual Florida International Jet Rally say it is one of their favorites. And why not? A big runway, no runway lights, a hangar to store your models at night, near perfect weather and the smiling faces of John Burdin and Steve Jaworski to welcome you and make sure you get plenty of opportunity to fly.

Lake Wales is a small town, about an hour south of Orlando. We were graciously welcomed by the city's airport management staff and the local hotel/restaurant personnel. Small towns with big unused runways are perfect venues for our sport. The photographer was a little delinquient on this trip - too busy flying jets, but here are a few rememberances.

George Rada from Plant City, Fl had many successful flights with his brand new MiG-15. George is new to the jet scene but the smile on his face reflects his enthusiasm - we will see many more models from George in the future. His MiG looks as good close up as it does in the photo and uses a RAM 750 for power.
Besides donating a radio, the very generous people at Horizon sent us a box of JR knee pads to distribute at the meet. Red jets and JR knee pads go well together.
David Carter from St. Petersburg, Fl is very pleased with his AMT AT-180 powered Bandit. This is the second Bandit to which he has applied a great looking 3-tone grey camo scheme. David borrowed the scheme from a YF-17 prototype from the 70's.
The jet gang from southwest Florida flew the heck out of this and 2 other Bandits all 3 days of the meet. From L-R - unknown youngster, Mike Burke, Vern Kramer, Francis Pischner, Dee Miller, and Larry Kramer. Larry Kramer is one "Hot Sh*t" pilot with a very busy pit crew that keeps the equipment ready to go and in perfect condition. Larry's dad Vern won the "Above and Beyond" award and Larry won the "Craftsmanship" award.
Rob Lynch F-4 now has a Jomar gear door controller that eliminated a pesky problem with gear doors closing too soon. BV's Phantom has been changed over as well, BVM will be stocking this item soon.
Rob's model caught at the instant of rotation under RAM 1000 power. Photo's courtesy of Bob Beaudette.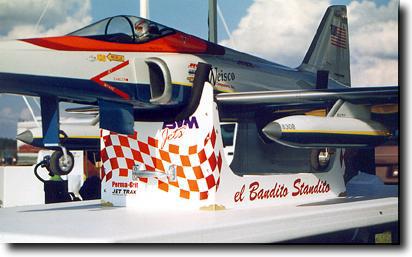 How about a "Best Jet Cradle" contest? BVM will sponsor a cash prize award at Superman 2001. Mitch Weiss got us started on this idea with his El Bandito Standito - a great benchmark to compare your's to. More on this later.