Florida Jets 2002

You had to come early and stay late
It is usually a great time of the year to enjoy Florida's weather. After all, NASCAR schedules the Daytona 500 the week before and Bike Week ensues the week after, so the odds are the weather should be great. Nature dealt us a tough blow this year with 2 days of heavy rain and wind, but for those who came early and stayed through Sunday, there was a lot of flying activity.

Even bad weather can have a good side when you fly jets. The time under the tents provided an opportunity for jet guys to talk about their favorite subject with friends of like interest. Increased friendships and increased knowledge equal good results from bad weather.

Photo opportunities were restricted as well but the following "gallery" offers a glimpse of the BVM participation.
The winglets are Tom Dodgen's signature to BVM sport jets. They are hand made from balsa and ply with fiberglass reinforcing.

The cream and red paint is attractively trimmed with silver-to-black faded lettering. Powered with a JetCat P-120 set to 112,000 rpm (18lbs of thrust), the BobCat logged its first flights on the day before Florida Jets. Tom then proceeded to fly the model as many times as the weather and BVM workload would allow - very smooth plane and pilot.

Letter paint masks by ProMark.
Retired airline pilot Skeet Hunt enjoys seeing the country in his Suburban and now has the time to help fellow westerners transport their models to some jet fly-ins. This time he brought his own F-80 and Dan Avilla's F-86 and Bandit.

Dan's turbinized Sabre has been around sometime and still looks great. The Presto finish reflects Sunday's sunshine. Their facial expressions show their pleasure with Florida Jets 2002.
All the way from Australia, David Gladwin had no contest claiming the "farthest distance traveled" award. He confided that he thoroughly enjoyed flying his new BobCat XL, the subject of his RCJI product review series.

David has a distinctive aviation background and can really appreciate a good flying model.
It's hard to find a guy who enjoys this hobby more. Jack Diaz travels from Venezuela for all of the big events. This Rafale B-O1 with twin RAM 1000 power is stored at the BVM factory between his visits.

At meets like Florida Jets, you will see Jack's jets either in the air or being charged and fueled for the next sortie.
Dave Jr., Pete and Dave Malchione, one of the "jet families", traveled from Kennet Square, PA to enjoy their hobby. The Bandit is powered by an AMT AT-180 and the Phantom is a recent conversion from twin Viojetts to a single RAM 1000. This airframe is at least 5 years old and has hundreds of flights on it.
David Payne came from Chattanooga, TN to fly this BVM F-80. It's finished in Presto Coverite film and looks great in the air because of the highly reflective finish. Note the shark's eyes and mouth on the Misawa tanks. F-80 owners really like the way this Korean War fighter flies.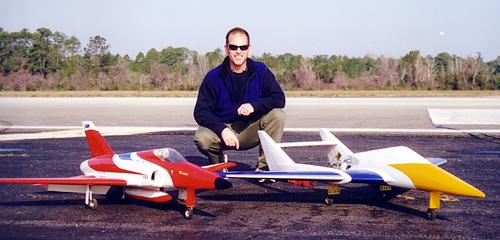 This former F-14 TomCat driver can really ring out a sport jet. Paul Bageman (Bags) flew in from San Diego to exercise his AMT powered Bandit and BobCat.

The problem with flying a BobCat before you finish the paint job is that it is then hard to take it out of commission to make it pretty. 'Hope Bags can find the time to dress it up with a canopy and some lettering - see Tom Dodgen's for the effect.
If you know Mitch Weiss, you know that he gets his flying in early in the morning before the skies get crowded. Here he is running up his RAM 500 powered balsa Bandit for another A.M. sortie.
Kemp Gallineau's first jet flight occurred on the day before Florida Jets after a "BVM team" checked out the model, engine installation and test flight. He caught on quick and proceeded to log 11 flights on his JetCat powered Bandit.

As manager of the huge Gaylord Palms hotel and convention complex in Orlando, Kemp's time to build is limited. Turn key jets are his solution. His thumbs can handle anything from heli's to 200mph jets.
What a lucky guy, 3 beautiful daughters and a georgeous Bandit to enjoy the event with. Scott Greenia took a minute to pose Miranda, Hayley and Adrianna.

Photographers note: I apologize for not timing photo to include the beautiful mother of these girls - she was busy attending to their needs, I got busy attending to jet business and flying. BV

Scott's Bandit was so well done he received a "Special Recognition" award for it along with logging the first successful flights on it Sunday.

The Greenia family traveled from Emmett Michigan, trip included Disney World for the children.
Another successful first flight on a BobCat was enjoyed by Gene Logghe from Washington, Michigan. Mitch Weiss helped Gene sort out the JR programming setup and accomplish a range check. Everything worked perfectly, making Gene's travel very worthwhile.
Always the best looking Bandits on the field - here Vern Kramer services one of their fleet for another launch. They use AMT engines exclusively and are very impressed with their reliability and longevity.

As AMT reps, the Kramer's are always available to help AMT customers with info and support equipment.
Events like Florida Jets bring great people and great models together - Frank makes it happen. As busy as he was, he did manage a few flights with his SimJet powered BobCat.
I flew both the F-100D with AMT AT-280HP power and the F-100F with AMT AT-450 power and was very pleased to receive the "Best Post 1960" and the "Critic's Choice" awards.

The slatted L.E. wing has proven it can handle alot of weight in fuel and external stores - takeoffs and landings are a breeze.

The composite airframe doesn't shy from 200mph high G manuevering either.

This Metal-Kote'd beauty will receive some more skin detailing to ready it for Top Gun 2002 scheduled for April 22-28th in Lakeland, Florida.