Jets over the Swamp '02
Better late than never

My apologies to the Okefenokee R/C modelers for this late report. - Bob Violett
About 30 pilots from the southeast gathered in the town of Waycross, GA to enjoy their sport at the local airport.

The 150' x 5,000' asphalt runway is in use by civilian sport aviators until the jet group arrives.

This kind of setting offers our sport real growth potential. Sure, you have to travel to get there, but the unrestricted flying from a large runway and the cordial welcome from the local people make it worthwhile.

Thank you to Allen Smith and the local R/C club (Okefenokee R/C modelers) for the photo's and story along with their efforts on behalf of jet modeling.


Mitch Weiss arrived fresh from his 5th place finish at Top Gun with his F-100D. Mitch took home the Best Scale Turbine award.
From left to right - Francis Pischner, Vern Kramer and Larry Kramer with their beautiful Bandit's and new BobCat.
Wally Sundey and his turbine powered Maverick.
Dee and Deeke Miller from Lakeland, Florida enjoyed their new BobCat with RAM 500 power.
Gordon Dickens, from Atlanta, brought his balsa Bandit with JetCat power and made good use of the wide open field.
John Burdin won the "Most Flights" with his turbine Bandit and nearly Top Gun award for most impressive and consistent flight performance.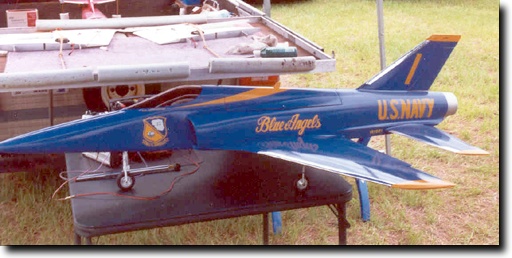 The CD of the meet Allen Smith was able to log some flights on his trusty Ultra Viper throughout the weekend.
Here are the award winners for Jets Over the Swamp 5. From left to right, Larry Kramer with the "Top Gun", "Best Sport Turbine" and "Best of Show / Pilots Choice" awards flying 3 BVM turbine Bandits! John Burdin with the "Most Flights" award and Mitch Weiss with the "Best Scale Turbine" flying his BVM F-100. Tim Fielden took home the "Best Sport Ducted Fan" award with his own design "Rebel" and Todd Scott won the " Best Scale Ducted Fan" award with his BVM F-86.