Mississippi Afterburner 2002
May 17-19
The weather turned out much better than the dire predictions of the forecasters. The rain occurred at night and the wind was down the runway 90% of the time.

One nice feature of this event is that you can fly late into the evening hours and take advantage of the subsiding wind and have the sun at your back.

The Afterburner event is the invention of Vernon Montgomery and Dennis Lott and now joined by fellow "Mississippi Gang" members David Reid and Rick Yelverton to make it happen.

Even though there is an entry fee and the evening meals in the hangar are not supposed to be free, they cover the deficit out of their pockets. This is their way of "giving back" to the sport that we all enjoy so much.

Thank you Mississippi Gang. Jason, Tom and I had a great time.
Bob Violett
There were several new BobCats at Miss. - here is a sampling:
Ed Lungren readies his new BobCat with assistance from Kevin Green. First flights successful with help from Tom Dodgen. Ed now has many flights on the "Cat".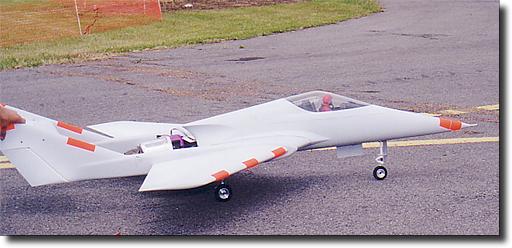 Bill Harris calls this his "Crystal City Camoflauge" scheme. Again, first flights were very good and the model should be looking great by Superman.
Interesting all red BobCat by Scott Marr who also enjoyed success on the first outing. Very nice workmanship and very visible.
Mississippi Afterburner was a good opportunity for first flights, here Rick Yelverton and Tom Dodgen pose just after Rick's F-100D was a success. And, now the fun part!
This is David Reid's 2nd Phantom and his experience really showed in the quality of the model and a "no trim needed" first flight.

The Vietnam era camo on the "E" nose F-4 is certainly a favorite. David is justifiably pleased with his accomplishment. He says that building and finishing a jet is a very important part of the hobby for him. This new Phantom is successfully powered with a JetCat P-120.
This Phantom has been around for a few years and is flown by the father/son team of Dennis and Paul Lott. It is now powered by a JetCat P-120 and made several flights at the event.

The Phantom takes a few flights to get used to, the proper "expo" on the stab and ailerons to suit your flying style is important and then most pilots will say "F-4's forever."

JetCat rep Jason Somes flew in from L.A. to help the BVM team exercise our trailer full of jets. As many have seen - he's nonstop, logging at least 12 flights per day. Many were on the "Super Bandit" with a routine that surely instills confidence in the airframe strength of our latest offering in the sport jet category.

Thanks to Jason, the factory prototype now has about 90 flights on it. Good testing prior to kit release yields a better product to the consumer.

Super Bandits will be very popular with the high performance enthusiasts.
Bruce Richmond shows his delight with his JetCat P-120 powered MiG-15. This is his first scale jet and he is fired up about the finishing and detailing aspects of this segment of the hobby.

Bruce is quite a craftsman, so watch for some very competitive models to come out of Atlanta.

The MiG is BVM's most challenging model to build but also probably the easiest-to-fly scale subject.
Mitch Weiss won the "Best Scale Turbine" and "Pilots Choice" awards with his F-100D fresh from its Top Gun debut. The AMT AT-280 SP gives it the proper push to get it and its load of bombs and tanks off the ground for a very impressive "fighter/attack" flight routine.

This is a great model - we hope you get to view it up close sometime. Its next outing will be at Winamac, Indiana June 28-30th.
Bob Covish calls for the BobCat formation team of Jason Somes and Tom Dodgen. They have flown together in Utah and Mississippi a few times. BobCats are a good subject for this type of flying.