Tennessee Jets
Mt. Pleasant, TN
June 14-15, 2003
Conveniently located and scheduled for a lot of jet pilots in the eastern half of the USA helped make the first Tennessee Jets very popular.

After arriving at the facility and seeing the huge runway with no obstructions, and then enjoying the exceptional hospitality of the local airport authority and some generous local business people, we were all convinced that Tennessee Jets is an absolute "must attend" for years to come.

Many thanks to Michael Grant, the Columbia R/C club, the airport manager Bob Ballard, and Fred Gillium for all their efforts.
Thanks to Gordon Dickens for the following photos.

Photo Gallery
David Reid is attending several events this season and doing a great job with his BobCat and F-4 Phantom - both JetCat powered. This is a great model from a great modeler.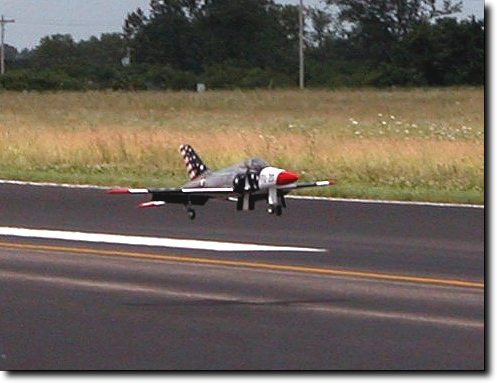 Joe Rafalowski shows the perfect attitude for a smooth Bandit landing and dead on centerline. This Skyblazer scheme looks great in the air!
Tom Dodgen's trademark winglets are very evident on this inverted fly-by in Tennessee.

Another example of a perfect landing attitude. Tom's engine is slightly spooled up (about 1/8-1/4 throttle). This JetCat P-120 now has 326 flights - all original parts.
James Moody really enjoys this hobby and associated friends - this time with an easy-to-see Bandit.
Craig Gottschang is back in action with his Bandit and Phantom shown here taking-off. Phantoms are unique aircraft and dearly appreciated by their pilots - especially if the wind kicks up. The building in the background is much further away than the camera lens depicts.
Gordon Dickens was very active at Tennessee Jets flying his BobCat and brand new Super Bandit, both with JetCat P-120 engines. The "Super" features a very attractive and visible color scheme borrowed from the Swiss F-5 demonstration team. This model was built and painted by Steve Gabrys.
This was the third outing for the KingCat. We utilized a JetCat airspeed limiter and the new JetCat GPS unit to check the accuracy. Of course, one system is reading airspeed and the other is reading ground speed. Factor in the average wind and our mounting for the airspeed sensor proved very accurate. This airfoiled mount (arrow) for the JetCat pitot tube will be a BVM product very soon.

The KingCat will reach the 200mph limit with P-120 power, and with P-160 power, the limiter retards the E.C.U. throttle control a bit sooner.