Customer Hotshots
click on images to enlarge
From: James Safie
Sent: Monday, May 22, 2017 1:34 PM
To: Patty Generali; BVM
Subject: F16 Texas ANG 1:5
Patty / Bob / Rob / Kirby,
I wanted to share with you my experience of maiden Flight on Saturday. Great Plane, 3 clicks of up trim is all it needed! What a Wonderful product! Thanks for all the support!
Jet Central Mammouth, Spektrum DX18, 3e Gyro. Great Combination.
Got in 3 Flights, 6 Minutes each and the forward tank full, could easily get 1.5 more minutes.
Best Regards,
Jimmy Safie
---
From: Jeff Stubbs
Sent: Monday, April 24, 2017 8:47 AM
To: Patty Generali
Subject: Cool picture
Patty,
Here is a really cool picture I took Saturday at a war bird fly in of the BVM PNP F-16.
Thanks
Jeff Stubbs
---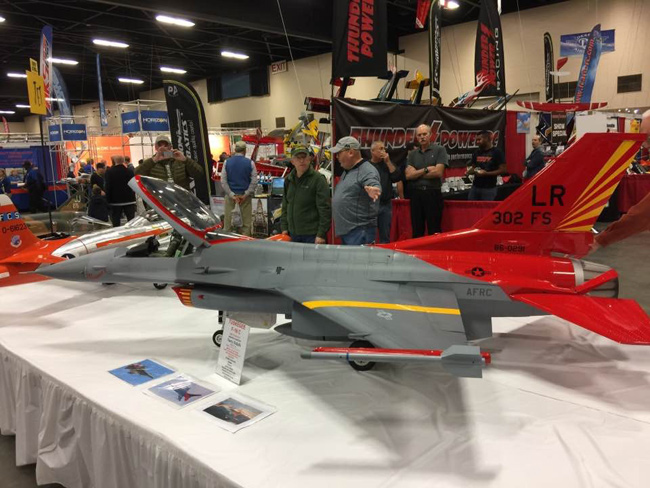 To: Patty and Bob
From: Terry Nitsch
Subject: Toledo Winner
Had a great time at Toledo winning the Jet Class with the new 1/5th scale F-16! I always like doing my own thing on any of these ARFs so I end up with an aircraft a bit different than the standard variety. This one was no exception.
I was looking for a paint scheme that was colorful but still rather military looking. This Tuskegee version from the Louisiana reserve unit fit the bill perfectly. I ordered the aircraft in a basic grey color and did my own paint job. I used PPG automotive paints for the project Such as DBC basecoat and Concept DCC single Stage paint for the Red areas. I also found a new flat clearcoat for most the model called "Flexed "N" Flat" DCU2060. It worked perfectly, and I would highly recommend this for flat paint schemes.
The aircraft is powered with the King Tec K210 and based on what I have heard, should fly great. Really looking forward to competing with this BVM product!

Terry Nitsch
---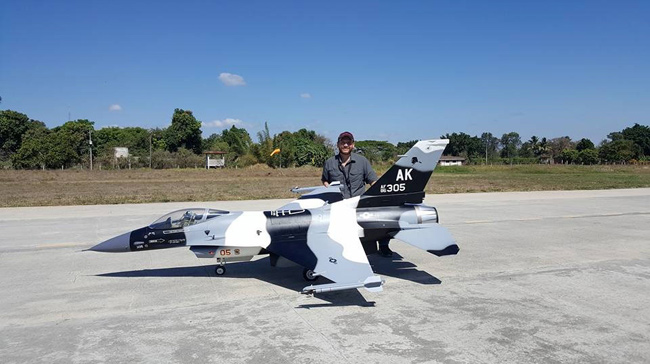 From: Roberto Zelaya
Sent: Tuesday, March 28, 2017 3:21 PM
To: Patty Generali
Cc: Heather
Subject: BVM F16 PNP 1/5
Dear Patty,
It was a real pleasure to finally met you at Florida Jets 2017. Also it was great to met Heather as well. You make me feel really special and like part of BVM's family.
I would like to take this opportunity to share with you photos of the maiden day of my BVM F16 PNP 1/5, Aggressor Alaska paint scheme. Just like the 1/6's that I have (two), this one flies amazing.
Best regards,
Roberto Zelaya
El Salvador
---
From: Joel Wilson
Sent: Monday, February 06, 2017 12:01 PM
To: Patty
Subject: Mall show
Patty, thank you for getting the F-16 1:5 scale to Iowa. I went to Des Moines and picked up the boxes and drove to the ORCF mall show and within 15 mins had it out of the box and on display. Everyone was blown away from the size, but more about the empirical Quality of the airplane itself straight out of the box. Many commented that it was a Top Gun finish airplane, so once again thank you for you making me look good !!!
Thanks Joel A Wilson
---
From: Scott Harris
Sent: Monday, October 3, 2016 12:49 AM
To: BVM
Subject: Re: BVM F-16 1:5 PNP
Hi Heather, I've been thinking how I would describe owning/flying the large PNP F16 and not duplicating the others. So here's my response. "With minimal assembly time and thrilling flight performance the BVM PNP F16 is simply magnificent!"
---
Ritchie Holt is quite pleased with his "Edwards Chase Plane" scheme BVM PNP 1/5th scale F-16. What little assembly that is required was accomplished by Rob Lynch. The model is powered by a JetCentral Mammoth, guided by a Spektrum 18X, and is gyro stabilized by a Cortex. A few very minor control travels were adjusted to suit Ritchie's "style". Look for it at Georgia Jets 22-25 September 2016.
Contact Us
All graphics, photos, and text Copyright 2016 BVM, Inc.
Use of graphics or photos without written permission from BVM is strictly prohibited