Customer Hotshots
click on images to enlarge
Bomber field

Hello,

Just wanted to let you all know we had a fantastic day at Bomber field on Monday, February 27th. After the maiden flights of both jets, Wally Warren successfully received his turbine waiver with his BVM F-15. George Harpole also put multiple successful flights on his F-16.

Both jets are powered with Swiwin 190 turbines.



Thank you all!


Joseph Kouzez
Thank you for producing such a wonderful product. I am Proud to Fly BVM.
Flyin Ryan Robertson.
Ryan and Bob Violett at Kentucky Jets 2012
---
Ken Monblatt and Brian Blois this past weekend. Ken's 1:6 F-16 is powered by a KingTech 210 and guided with Spektrum. Brian's 1:5 F-16 has a SW 300.
---
From: Ed Martino
Sent: Monday, August 1, 2022 8:27 AM
To: Patty <patty@bvmjets.com>
Subject: 1/6 F-16

Hi Patty

Flew my new F-16 yesterday. Flies fantastic . See the video of maiden flight

https://youtu.be/_vkppOub7zg


Ed Martino
---
From: Sean Gallagher
Sent: Wednesday, July 20, 2022 1:06 AM
To: BVM Office
Subject: 2022 Jets Over Kentucky

Heather,

Attached are a few photos from Jets Over Kentucky held July 10-17, 2022, where over 120 pilots were registered. Although I was only able to attend 3 days, I was able to log 17 flights between my two F-16s.

The first is my BVM 1:6 scale F-16 powered by a Swiwin 190 and controlled by a Futaba 16SZ and Cortex gyro.

The second is my HSD Jets F-16 in the new General Dynamics scheme powered by a Swiwin 80 and controlled by a Futaba 16SZ and Cortex Pro gyro using S.BUS.

Yes, I do like F-16s. :-)


Until next event,

Sean Gallagher
---
Joshua Bybee from Aurora, CO with his BVM F-16 1:6 scale is very happy after his test flight this past weekend.
---
Hello all,
Finally got the bird back into the air today for a good re-maiden flight! Handled really well, just need a few radio tweaks to match it to my flying style. The landing wasn't a perfect 10 but was probably every bit of a 9 and right down the centerline. Really looking forward to more nice days and more great flights!
Flown at Arvada Associated Modelers field, Colorado
Tim Kenney
---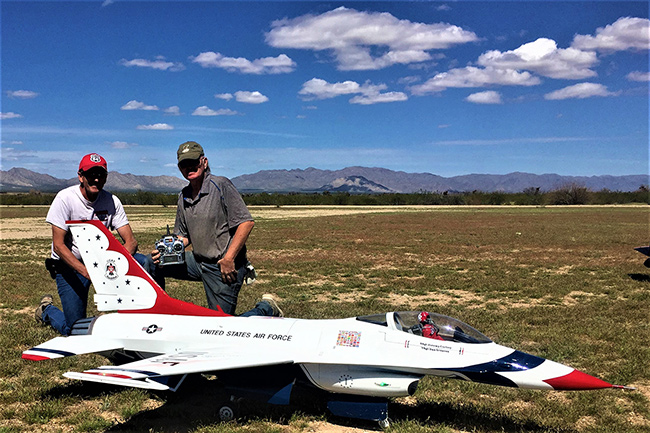 From: Vernon Franklin
Date: 3/10/20 5:06 PM (GMT-05:00)
To: Rob@BVMJets.com
Subject: My BVM F16 1/6 scale maiden flight Awesome

New BVM F-16 1:6 Scale Maiden flight was Monday. Tim Johnson was at the controls. Powered by KingTech K140. The weather and flight were perfect. The F16 flew on rails. The landing was easy. We have 9 flights to date and very happy with the speed and slow flight qualities.


Thanks for such a great Jet and the technical support from BVM!


Lee Franklin
---
Jimmy Safie's son Jose Andres enjoying the BVM F-16 1:6 scale powered by a JetCat 140RXI with a Spektrum DX18.
---
Hi Heather,


Here is my BVM collection so far. Would like to thank you and everyone at BVM, from Rob with all technical support to Patty with BVM kits and turbine orders. It's nice to know that BVM is always there to support me with all my needs.


Thanks, Sal Difloria
---
Hi Patty and Rob,

A great debut for the BVM F16 1:6 at the QTF Flyin 2019. Maiden consisted of a couple of clicks of trim and then we got stuck into some Airshow maneuvers. Had another 15 flights of the 2 days. I only had a K170 in the cupboard so it has a few 1000RPM wound off the top end and is more than enough. We picked up the "Pilots Choice" award for the event which is voted on by the pilots as you know.

Thanks

Tyson Dodd
---
This BVM 1/6 F-16 was modeled after and in cooperation with Lt. Col. Dan "Two Dogs" Hampton, who served in the USAF from 1986 to 2006. He flew 151 combat missions in this F-16 and logged 726 career combat hours. He has been decorated with 4 Distinguished Flying Cross with Valor, 8 Air Medals with Valor, 5 Meritorious Service Medals and a Purple Heart.

The bird took home two awards including Best Scale Flight at Warbirds over the Hudson event in West Haverstraw, NY.


Chris Gleason
---
Patrick Rohrbach out enjoying his 1/6th F-16. Keep up the great work Patrick.
---
Greg Tracey from Australia with his BVM F-16 1:6 PNP.
This "Green Lightning" scheme is powered by a JetCentral 160 with a JR28X.
---
Gamal Sadek with his award winning BVM F-16 1:6 scale. Gamal took home the
"Pilot's Choice" award at the Warbirds Over The Atlantic event located in Truro, Nova Scotia, Canada.
---
It was great to have BVM represented at our first annual "The BIG THAW" event this past weekend. We had pilots from 3 states and from Saskatchewan Canada. Looking forward to next year.

Bruce Pennington

---
I was at the Mike Saleeby Memorial Jet Flyin and brought home some hardware.
The 1/6 F16 is flying great!!

David Warr
---
From: Bruce Pennington
Sent: Saturday, May 19, 2018 3:39 PM
To: heather@bvmjets.com
Subject: F16
Hi Heather,
I just wanted to share with you, Patty, Rob, Don and all BVM my recent purchase from Brian Blois. I am so very happy to be a BVM family member. I can't wait to fly it and want to say a huge thank you to everyone at BVM for your hospitality as we visited last November and again in May during Top Gun. That combined with the help and support from Brian had made us BVM fanatics. I also want to mention and say a huge thank you to BVM team rep Brian Blois who is an extension of our experience with BVM and is a great representative of BVM. Is also like to say thank you to Rob for flying with me at Florida Jets and letting us hang out in the BVM tent at Top Gun. I just can't say enough other than thanks.
Thanks again
Bruce Pennington
---
From: Don Gottlieb
Sent: Thursday, March 1, 2018 7:05 PM
To: Heather@bvmjets.com
Subject: 1/6
Hi Heather, Patty and Y'all!!! Great plane almost ready to maiden. Just a Taxi Test today. Again thanks for everything!! Love this Scheme for my old eyes.
Don Gottlieb
---
Arthur Gambino from Arizona sent in this photo taken at the Sun Valley Flyers Field. Arthur's BVM F-16 1:6 is powered by a Kingtech 180 with Spektrum guidance.
---
This is a photo of my BVM F-16 1:6 PNP at 2017 "Wings Over Houston" with the Thunderbirds.
Jay Moorhaj
---
From: Steven Dimaio
Sent: Monday, June 05, 2017 4:44 PM
To: Patty Generali
Subject: BVM F-16s
Patty,
Here is a pic from this weekend at Woodland Davis Aeromodelers . Two BVM F-16 1:6, Greg Milosevich on the left and myself on the right. Greg's is powered with a Behotec 165 and is guided by JR radio. Mine is Kingtech K160g2 powered and guided by Spektrum radio.
Cheers,
Steve D.
---
Shaquille James from Denver, Colorado is happy with his BVM F-16 1:6 PNP. This is powered by a King Tech K-180G with Spektrum radio equipment. Shaquille is running his F-16 with no Gyro and states "It is a Power House!".
---
Jack Diaz (JR) has excited California jet modelers by flying his BVM 1/6th scale PNP F-16. Jack says the JetCentral Cheetah 160 is just perfect power. There will be a few more in the area soon!
---
Bill Freeland's PNP F-16 "In-Action" at the Sanford Aeromodelers's Club field January 2017. The contrasting light and dark colors provide excellent visibility against even a cloudy sky.
Photo Credit to David Hart
---
From: Jay Moorhaj
Sent: Thursday, December 15, 2016 2:13 PM
To: Patty@bvmjets.com
Subject: Wings over Houston
Hey Patty, thought you might enjoy these pictures of my BVM KingCat flying at "Wings Over Houston" and the BVM F-16 1/6th Scale is shown loaded in the 445th C17 Globemaster.
Jay Moorhaj
---
Greg Foushi enjoys having 2 BVM PNP F-16's. Both are Hi-Viz schemes. The orange and invasion stripes on the Indiana Nations Guard scheme is brilliant in the sky. The contrasting light and dark camo patterns on the Alaskan ANG is almost as good for visibility.
---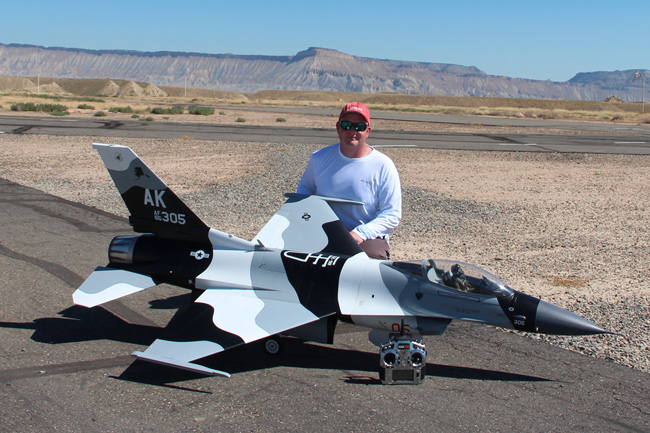 From: Brian Blois
Sent: Monday, August 15, 2016 3:26 PM
To: Patty Generali
Subject: 1/6th F16

Hi Patty,

Here is a few pictures of my F16 flying over the Grand Mesa in Grand Junction, CO. The airplane is powered with a JetCat 180 RXI with the smoke tanks converted for fuel and uses a iGyro E3 with Spektrum guidance.
Brian

---
Jay Moorhaj has a great collection of BVM Jets and proudly displays them with his sons Cole and Jake. He built copies of BVM's showroom "Jet Carriers" from plans that we provided.
---
From: Eric Meyers
To: Bob
Sent: Thursday, August 11, 2016 3:30 PM
Subject: 1/6 F-16


Hi Bob -


The summer heat made it a good time to lay off the golf and focus on my 1/6 PNP F-16 weathering. I had accumulated about 15 flights on it and the model flew quite well, so it was worthy of the additional time investment.

While it's "done" for the moment, I truly appreciate the scale modeler's motto of "a real scale model is never really done".

Thanks again for bringing such a great aircraft to market. As usual, I've had no issues with the plug and play model. Coupled with the Cortex gyro, this aircraft flies like it's on rails.

This model is the squadron mate to Jamie Snipes' fabulous aircraft, though I can't keep up with him on the scale wizardry. He's incredible! With my new weathering, at least my Swamp Fox Viper is personalized - it's "mine" now. BTW, we got the two in the air together last weekend at Lake City. Fun stuff.

Regards,

Eric
---
Ray Johns (General USAF Ret.) gets approval from his dad after enjoying a few more flights on his BVM 1/6 scale F-16. Ray has flown it from well prepared grass fields as well as this tarmac surface in N.J.
---
From: Jacobo Sevilla
Sent: Sunday, May 22, 2016 4:41 PM
To: Patty Generali
Subject: F-16 at Work
Thank you Patty, great aircraft,
Regards
Jacobo
---
From: Charles Freeland
Sent: Saturday, June 18, 2016 2:15 PM
To: Heather@bvmjets.com
The Ocoee Cub Scout Pack 217 visited RCACF for the club picnic. We gave them a brief overview of RC airplanes. They got to see radio controlled models from the most simple electric foamies to the most sophisticated turbine powered BVM F-16 flown by Greg Foushi (red shirt) and the Alaska scheme BVM F-16 flown by Bill Freeland (blue shirt).
---
From: Steven DiMaio
To: Bob
Sent: Monday, May 30, 2016 9:44 PM
Subject: FIF BVM F-16
Bob,
Attached is a picture of the Team DiMaio BVM 1/6 F-16. K-140 for power and Spektrum Radio. We logged 15 flights this show, looks amazing in the air!
Cheers,
Steve DiMaio
---
From: Bill Hatcher
Sent: Tuesday, May 17, 2016 4:23 PM
To: Patty Generali
Subject: RE: F-16
Patty, The F-16 arrived today. The packaging was perfect. There were 2 boxes because the wings were in one box and the fuse in the other. The fuse came completely together.
As always doing business with BVM and you is a great pleasure.
Attached is a photo of the plane after about 20 minutes of unpacking.
Wonderful product.
Thanks
Bill Hatcher
---
From: Kirk Jensen
Sent: Monday, February 29, 2016 9:06 AM
To: Heather (BVMJets)
Subject: Saturday flying
Had a trio of BVM F-16's at the field Saturday. Wiley Brown, Quinten Hinds and Ray Blair. Great day at the field!
Thanks,
Kirk Jensen
---
Brad Hughes enjoys adding external stores to his BVM PNP F-16. The T.E.R.'s (Tripple Ejector Racks) and Mark 82 bombs are available from Details 4 Scale. Some model work and painting required. Always check the center of gravity after adding anything to the original configuration.
---
From: Angel Chazaro
Sent: Wednesday, January 20, 2016 10:43 AM
To: BVM
Subject: F-16
Hi Patty and Bob,
I want to share with you and with all the modelers my experience with the F-16 PNP, It's a wonderful model, all the details like, paint, lights and smoke for example make this model look awesome.
Thank you to the BVM team for your help and to Greg Arnette for his tips with this airplane.
Angel
---
From: Quentin Hinds
Sent: Friday, January 15, 2016 1:24 PM
To: Patty Generali
Subject: 3RD Place Scale Masters 2015: BVM F-16
Patty,
I got 3rd place in 2015 Scale Masters with my BVM F-16.
Scale Masters 2015
Oct 07-11, 2015
Bomber Field, Monaville, Texas
3rd Place ProAm/Sportsman Class
Nice Video of my F-16 from a different event.
https://www.youtube.com/watch?v=qfTmvMXUSdU
Regards,
Quentin Hinds
---
How about this for "Falcons in Formation" at Kentucky Jets in July 2015?
The lead F-16 is being flown by Sean McHale and in a close "Parade" position, is Kris Gunter. Both models are
BVM PNP F-16's that are powered by KingTech Turbines.
Photographer: Robert Engle
From: Sean McHale
Sent: Thursday, December 31, 2015 9:09 AM
To: Patty
Subject: Pair of BVM F-16's
JOK 2015. Kris Gunter and I flying BVM F-16's together. Thought you and Bob May like it.
Happy new year to you both!
Cheers,
Sean McHale
---
From: Kelly Rohrbach
Sent: Monday, December 28, 2015 6:29 PM
To: Patty Generali
Subject: Fw:
Hello Patty
Here is a picture I took just before the snow flew, so no pictures at the field yet.
Here you see my new BVM PNP F-16 with my 11 year old copilot and son Patrick. He approves even though he wanted me to order the Thunderbird livery. I guess that will be the next one.
Being born and raised in Montana and not having seen this scheme done too many times, I thought it was time to pay some respect to this squadron based in Great Falls, Montana. This was one of the first squadrons to serve in "Desert Storm" as part of the Mountain Militia Group.
I'm very pleased with the overall quality and finish and really look forward to flying it when the weather allows.
Thanks again for all your assistance during the ordering process with confirming the colors and markings. I could not be happier.
Kelly Rohrbach
BVM Rep
---
Brad Hughes flew his latest PNP F-16 several times during "Colonel Day". Brad likes to add external stores and there are more coming for this Desert Storm F-16A Block 10. "The Boys from Syracuse" would be proud.
---
Greg Arnette's latest BVM PNP Falcon is a replica of a "Top Gun" Navy Fighter Weapons School Aggressor. Yes, even the Navy appreciates the F-16's performance capability, especially in its simulated adversarial roll.
---
An F-16 test fly day at the ranch and all flew perfectly.
L-R Bill Freeland, Greg Foushi, and Dustin Buescher
---
From: Fusinato, David@DOT
Sent: Monday, November 09, 2015 12:19 PM
To: Patty Generali
Subject: F-16 at Lodi Jet Rally
Hi Patty,
The F-16 performed great at this weekend's Lodi, California Jet Rally. The new 10s system is perfect for the jet, as I only need 2 5s packs just behind the canopy. The takeoffs are smooth because the jet isn't nose heavy with fuel.
Attached is a photo of myself and Cubby with the jet.
Regards.
Dave Fusinato
---
From: Jack Karst
Sent: Tuesday, October 13, 2015 10:38 AM
To: BVM
Subject: Re: F-16 Hotshot Photos
I have flown it quite a bit more, and I am really liking it. I even won an award that I didn't have when I first sent pictures to Patty.
From Jack Karst Grand Junction, CO
---
From: Bill Broderick
Sent: Saturday, September 05, 2015 10:31 PM
To: Patty Generali
Subject: BVM PNP F-16 Thunderbirds
Hi Patty,
Here are some photos of my F-16 Thunderbirds scheme after a day of flying at NOLF Whidbey here in Washington State. I had this plane assembled and flying within 10 days of receipt. It flies and looks great. I've also added some of the Strictly Scale parts from Sean McHale- they really add to the overall look and I'll be fitting the rest soon.
Thanks to you and the entire crew at BVM for the great products and superior customer service.
Bill Broderick
Snohomish, WA
---
From: Tim Len
Sent: Thursday, August 13, 2015 8:00 AM
To: Patty Generali
Subject: BVM Jets
Hi Patty
I have attached some photos of BVM Jets for your review, The airplanes are Tim's, Jason's, Greg's, Brad's and Louis. Have a Great Week..
Tim Len
---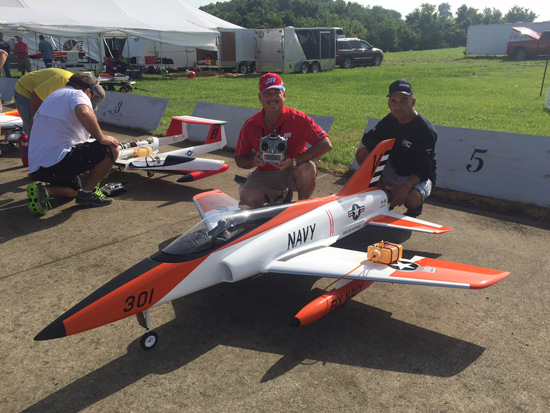 From: Boli Muentes
To: Heather
Subject: BVM F-16 at Kentucky...
Heather,
Here are a couple of pictures from Jets over Kentucky if you want to use them in your event report.
It is my F-16 that you custom painted with my daughters name as the pilot. It was the hit of the parade of lights because I ran a full tank of smoke through it during the parade and won a Special Recognition Award at the event for the F-16 too!
Boli Muentes
---
Gamal Sadek at Shearwater Airport in Halifax, Nova Scotia, Canada is enjoying his BVM PNP F-16. This General Dynamics scheme is popular. It is easy to see why.
---
Patty and Bob,
It was a great week at First in Flight and I appreciate all of your support! I wanted to share a few photos from FiF of my new BVM PNP F-16 to which I have added some scale details to represent SCANG F-16CJ tail number 93-0543 during Operation Iraqi Freedom in May 2003. All of the work done by BVM on the front end really helped to reduce my time to flight. Everything fit very well and your support on initial setup made for a high confidence level. Special thanks to Greg Arnette who gave me a lot of good tips on flying with ordnance.
I started with underwing tanks and wingtip AIM-120's and quickly progressed to full ordnance. Performance is outstanding! Another winner from BVM!
Looking forward to flying with you again soon!
Jamie Snipes

---
Click Here For BVM F-16 Video's
Col. Bob Thacker and Dr. Ken Wagner are celebrating the first flights on a BVM F-16 PNP. Completely successful!
---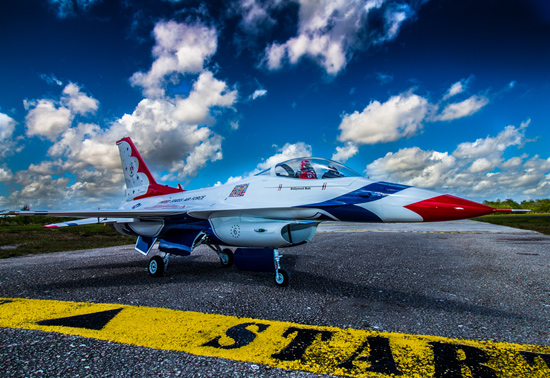 From: Ritch
Sent: Monday, April 13, 2015 8:09 AM
To: Patty
Subject: F-16
Hi Bob and Patty,
Sending a fabulous picture of my new F-16 taken by Raj Patel. One of my favorite BVM jets.
RITCHIE HOLT
---
From: Boli Muentes
Sent: Wednesday, April 01, 2015 7:24 PM
To: Patty Generali
Subject: F-16 pics...
Hi Guys,
I have some pics of my F-16 I thought I'd pass on for the website if you wanted them. They are from Florida jets and Markham Park.
I love the F-16 and thanks for building such a great flying jet!
Boli Muentes
---
From: Greg Foushi
Sent: Thursday, March 19, 2015 3:13 PM
To: 'Patty Generali'
Subject: Foushi - PNP F-16
Hello Patty,
I wanted to thank you and the BVM Team for such a well built jet. I never thought anybody would come out with a PNP jet and when I saw it I had to have one. It's tough to find building time with three children so this was just what the doctor ordered for me to get in the air right away!
The quality of the jet is very impressive. The landing gear is outstanding and the light package is a great bonus to the jet. I just took delivery of the ordinance package and wow what a beautiful set of fuel tanks and missiles they really are top notch… J
The jet is rock solid and flies like it's on rails. It flies so nice and slow landing it really is a winner and I'm very happy to have and fly it.
Thanks again,
Regards,
Gregory J. Foushi
---
From: Roberto Zelaya
Sent: Sunday, January 18, 2015 11:08 PM
To: Patty, Heather, Dustin
Subject: Photos from Jan 17, 2015
Dear friends at BVM,

These are some photos of my BVM F16. It is an amazing plane, so easy to fly and reliable. I am using a Kingtech 140, Powerbox SRS Royal and Spektrum DX18. I am flying the F16 in El Salvador, Central America on out paved runway.

Thank you for such an amazing plane.


Best regards,


Roberto Zelaya
El Salvador
---
From: Wiley Brown
Sent: Monday, December 15, 2014 10:09 AM
To: Heather@BVMjets.com
Subject: PICS F-16
Hi Heather,
Attached are some pictures of Don Longhofer's F-16 along with mine. I am in the orange shirt.
Have a great week.
Wiley Brown
---
Dan Davis from Dallas, Texas recently finished and maidened his new "Ace in the Hole" F-16. Dan was assisted by Nick Johnson through out the build and first flights. Dan chose a KingTech K-140G for power. Congrats Dan!
---
From: Strictly Scale
Sent: Thursday, November 13, 2014 8:38 AM
To: BVM
Subject: BVM F-16 PNP
Thanks Heather, I've attached some photos of my F-16. Couldn't be happier with it after its first flying season. It remained reliable and was a pleasure to fly, very pleased with my decision to add it to my jet collection. It's easily my favorite!

Cheers, Sean McHale
Malvern, PA

Editor's Note: Sean's F-16 has been working well from paved and grass runways such as present at the Farview Flyers field in Pa.
---
Danny Morales finished this very unique BVM F-16. Anthony DiMaio was given the honors of completing the first flight.
---
---
Brad Hughes is the proud new owner of this "High Viz" F-16. Brad chose a KingTech K-140G for power and a DX18 G2 for guidance. This is Brad's second jet to complement his BobCat.
---
Joe Boyd of Chicago, IL is proud of his new Edward's Chase scheme 1/6th F-16.
Joe chose a JetCat P-160SX power and a DX18QQ for guidance.
---
From: Robert Lynch
Sent: Sunday, August 17, 2014 7:01 PM
To: Patty Generali
Subject: F-16
Hi Patty,
I thought I would let you know how happy I am with the F-16. It flies fantastic, looks fantastic and went together very easily. The manual provides excellent detail and information on the assembly process. The control throw templates are a big help during the radio setup. I am looking forward to putting some serious flights on it.
Thank you
Rob lynch
Video: BVM F-16 Video
---
From: Steven DiMaio
To: Bob Violett
Sent: Friday, August 08, 2014 2:16 PM
Subject: A few pictures
Bob,
Was able to spend a few days back home in PA filled with a bunch of flying. An unofficial jet rally was held at Hamburg, Pa. with Team DiMaio, Sean Mchale, Danny Morales and Roger Ko. Great times. Here are a few pics.
---
From: Cortez, Jaime
Sent: Saturday, August 09, 2014 5:37 PM
To: Patty
Subject: F-16 Diamond Jubilee
Patty,
I finally got a chance to fly the "big" brother (BVM F-16 PNP) today and had a quick 3 flights. The plane is light and wants to just to keep flying. The plane flies well and I can't wait to fly it more. I'll have to get another pic of both planes at a later date.
Thanks for the help with the plane and I'm very happy with the purchase.
Regards,
Jaime
---
Wow! Look at this Hi-Viz F-16 in an Indiana Air National Guard scheme!
This BVM 1/6th scale PNP is powered by a KingTech K-140 and is proudly owned and flown by Dr. Peter Miller.
---
From: Anthony DiMaio
To: Bob Violett
Sent: Wednesday, June 04, 2014 8:00 AM
Subject: Sam and Anthony DiMaio
New F16. Maiden flight was Monday. I did the maiden on Sean McHale's (grey one) Monday also. Both maiden flights were perfect. Both powered with K140.
---
Greg Arnette getting ready for another flight on his JetCentral Cheetah powered BVM F-16.
---
First flights on these BVM F-16's have all been 100% successful. Steve Burnett and Tim Len got assistance from Dustin. They are on there own now and very pleased with the product.
Steve's ThunderBird model is JetCentral Cheetah powered.
Tim's General Dynamics prototype is JetCat P-140RX powered.
---
Jason Bauer Kingtech K-140G
---
Nick Johnson JetCat P-140RX
---
Kris Gunter and Barry Hou Kingtech K-140G
Contact Us
All graphics, photos, and text Copyright 2016 BVM, Inc.
Use of graphics or photos without written permission from BVM is strictly prohibited