Customer Hotshots
click on images to enlarge
Marten Verheggen with his beautiful F18. Model is powered with a Jet Cat turbine and guided with a Jeti radio system. First flight video below.

---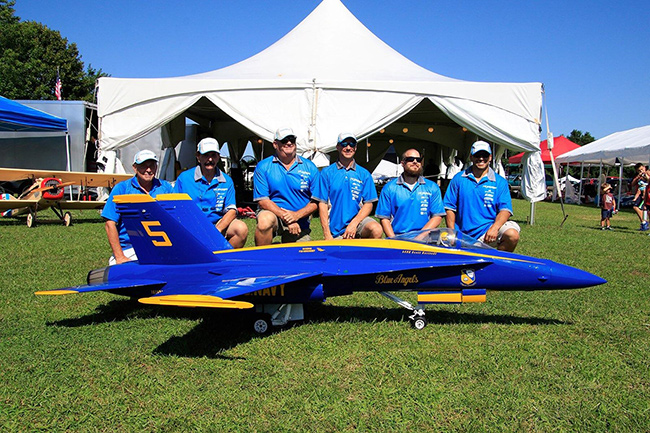 Warbirds Over Delaware
Dave Malchione, Pete Malchione, Andy Kane, Paul LeTourneau, Dave Machione Jr., and Anthony Dimaio
BVM F-18 1:5.5 scale with a KingTech 320 and Spektrum DX18 guidance.
---
Juan Vidal from Puerto Rico enjoying his Twin F18 in Canadian Livery.
The aircraft is powered by twin Jet Central Cheetahs.
---
Mike Warner got some help from Tim Redelman to finish his F18 1/5.5 scale. It sports a beautiful Canadian airshow scheme. Its powered by twin 160s. Great job guys.
---
Andy Andrews did a great job at the Mt Pleasant jet rally in Texas.
He was awarded with Best Military Jet and Best Scale Jet flying his F-18 1:5.5 scale.
---
Cole Thornton is a proud guy with his 1/5.5 scale F18. He does a great job flying it as well.
Photo is by David Hart at Top Gun.
---
Greg Alderman recently attended the Toledo Weak Signals Show Static Competition with his 1:5.5 F-18 PNP. The F-18 came in 1st place in the "Military Sport Scale" category, Greg also received the "People's Choice" award that was selected by the attendees at the show. Greg wanted Jenni and Addi in the picture since without Jenni's support Greg certainly would not be doing this! And Addi, well she is in the picture since she is always with them at events and when flying!

Greg's F-18 is painted in the VMFA-115 "Silver Eagles" Patriot scheme normally flown by the Squadron Commander. It has 2 Jet Central Cheetah 160 turbines and the Jeti Duplex Radio.
---
Buck Garza from Benbrook, Texas with his BVM F-18C 1:5.5 PNP painted in a replica of the aircraft he flew while in service. Buck's squadron was the VMFA-112 Cowboys. The F-18C is powered by a AMT Turbine.
Contact Us
All graphics, photos, and text Copyright 2018 BVM, Inc.
Use of graphics or photos without written permission from BVM is strictly prohibited