Customer Hotshots
click on images to enlarge
Marshal Emmendorfer and Steve Pully flew together at the Michigan Jet Rally in Baldwin, MI.
Marshal flew the BVM F-18 1:7.75 Scale and Steve flew his ( 15 year old ) BVM F-4.
---
Hi Rob, Heather and Patty,

Here are some pictures of my BVM F-18 1:7.75 Scale PNP this past weekend at MN Jets. This is a great flying model that draws a lot of comments when people get to see it. Thank you for all the continued support providing high quality models and great customer service!

Thanks,
Mike Danielson
---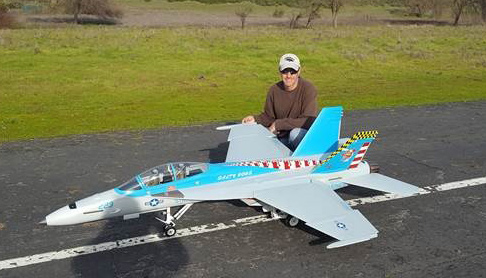 Darren Braun from San Jose, CA is all smiles after the maiden flight this past weekend. The F-18 1:7.75 scale PNP in the Salty Dogs scheme is powered by a KingTech K-140G2.
---
Chris Balling from Arizona with his BVM F-18 1:7.75 scale PNP in the Blue Angels scheme.
Contact Us
All graphics, photos, and text Copyright 2017 BVM, Inc.
Use of graphics or photos without written permission from BVM is strictly prohibited