EDF Jet Jam Award Winner!
Congratulations Terry Nitsch on winning the "Best Scale Jet Performance" with his BVM F-86 Sabre Jet.
---
First Place at the "Central Ohio Scale Classic" event in Centerburg, Ohio is another recent accomplishment by Terry and Shiela Nitsch.
The paint scheme is that of astronaut Frank Borman's personal airplane that can be seen at Luke A.F.B. The model started as a plain grey BVM ARF 63" model and Terry applied the paint and details.
It is powered with a BVM EVF ~3~ 12S 9 blade fan and is very fast. 7-8 minute flights with top end speeds of 170mph are standard, allowing Terry to post multiple 97+ point flight scores. The external wing tank jettison maneuver is good for 10 points every time.
---
Mike Constantine is a member of the jet friendly R.C.A.C.F. (Radio Control Club of Central Florida). He enjoys showing and flying his BVM Sabre ARF (63") with EVF ~2~ 10S power. Mike flies competition pattern and thus his "precision flying skills" make the Sabre look good!
---
From: Cesar Quero
Sent: Tuesday, July 15, 2014 1:26 PM
To: PATTY BVM
Subject: Two prizes
Hello Patty, Bob, Dustin

Last weekend we celebrated the 12th jet meeting here in Venezuela at my field, Club Carabobeno de Aeromodelismo;" XII Valencia Jet blast. I won the "Best Electric" with the new Fury 63" and "Best Scale" with my Skymaster Bae Hawk, both planes fly awesome.

thanks for the support.

Cesar Quero
---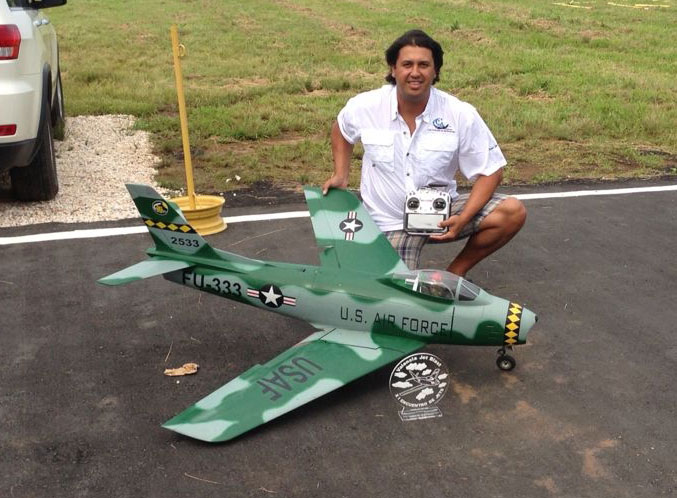 From: Cesar Quero
Sent: Wednesday, August 07, 2013 1:05 PM
To: PATTY
Subject: BVM Sabre 63 AFS
Hello Patty and Heather

Attached are pictures of my e-Sabre 63", I won the award for Best Electric Jet in the "Valencia Jet Blast 2013" in Valencia, Venezuela.

Thanks

Cesar Quero
---
3 For 3
Terry and Shiela
Terry Nitsch won the Central Ohio Scale Classic with his EVF ~3~ 14S powered BVM Mig-15.
Three scale events this season - Three first place awards.
Great Pilot - Great Machine
---
BVM, two for two with the new E-MiG. Won the champions Class and Pilots Choice at the Bob Evans scale event last weekend. First event with this model off grass and it performed beautifully. Event CD Bill Carper who is who is a Top Gun scale modeler himself said that if the MiG was a violin it would be a Stradivarius! Quite the compliment.
Terry Nitsch
---
Part of Scale competition flying is a down and dirty "Slow Fly-By".
Photo credits: Mark Radcliff
---
From: Terry Nitsch
To: 'Patty Generali'
Sent: Tuesday, July 16, 2013 11:40 PM
Hello BVM Staff, we were fortunate again in winning the Scale Open class at this year's AMA National Championships. It was a pleasure representing BVM Jets, Horizon Hobbies, and Thunder Power R/C. The new E-Mig flew beautifully and the performance of the EVF ~3~14S was amazing. After each six and one half to seven minute competition flights, there was at least thirty percent of capacity remaining in the TP 14S7700 battery packs. The balance of power and weight are perfect. Thanks for the support and the great products.
Terry Nitsch and Sheila
A perfect show center tank drop usually earns a perfect score (10 pts.) as demonstrated at the NATS by Terry Nitsch. The Wing Tanks and Pylons are available option for the
MiG-15 ARF see:
MiG-15 ARF Wing Tanks and Pylons
---
Harold Little (Marshville, North Carolina)
really enjoys his BVM EVF Jets
click here to read the article

---
From: Terry Nitsch
To: Patty Generali
Sent: Monday, July 16, 2012 10:48 PM
Subject: National Champion
I was fortunate enough to win my class for the second year with the BVM Electric Sabre, Thunder Power Batteries and JR Radio. Awesome flying machine!
Terry Nitsch
1st Place A.M.A. Nationals 2012
Fun Scale Open Class
(same as ProClass at Top Gun)
Terry continues his winning ways with BVM products. This model started as an all Aluminum Sabre ARF. Terry applied the skin details, paint scheme, and ProMark graphics. An EVF ~3~ 12s and ThunderPower LiPo's provide the thrust. Terry provides the expert guidance through his JR 12X, while Shiela contributes coaching and maneuver calling as she has for many years.
A tough team to beat!
---
Ary Figueira's EVF powered Sabre at a model field in Brazil.
---
From: Steven Burnett
To: Patty Generali
Sent: Tuesday, June 28, 2011 4:11 PM
Subject: F86 EVF and Bandit
Patty,

5 flights on the 10s Sabre and all I can say is WOW! It flies like my Bandit. Plenty of power, the verticle is amazing, yet true and pure with no bad habits. I can hardly beleive it's electric. Amazing finish for an ARF, I doubt there are many builders who could do better.. A special thanks to Tommy Wood Jr for building it to perfection and on time.. Trust me on this, I would not hesitate to have Tommy build, or fly, anything of mine. Again BVM has a home run with this one.. Thanks for all the hard work everyone at BVM does to make sure that the end product is the best there is..

Steve Burnett
---
From: Rafael Villeda
To: Patty Generali
Sent: Tuesday, February 22, 2011 10:14 PM
Subject: F-86
Dear Patty and BVM team,
Thank you for all your help and for making such a great airplane like the new ARF F-86. The maiden went great and the jet looks, and flies awesome! Here's a pic on maiden day!
Sincerely,
Rafael
---
From: Gregg Fullington
Sent: Sunday, November 07, 2010 2:55 PM
To: Patty
Subject: So Cal Fury's
Hi Patty:
Here is a photo taken by Ken Simmons, of Ron Derhacopian's China Lake with my PAX River scheme. I have 10 flights on mine, and Ron made the maiden flight on his the day the photo was taken. We are both thrilled with the quality of the kits. The performance and simplicity of the EVF system is very impressive.
Best wishes
Gregg Fullington
---
From: Ing.Traby Enrico
To: Patty
Sent: Tuesday, May 25, 2010 4:53 AM
Subject: Fury
I just wanted to let you know that I finally completed 2 successful flights on my Fury AFS Version yesterday. The plane was bought almost 2 years ago but for the old Viofan 91 combo which was converted to the EVF system . Having a short grass strip pushed my adrenalin but everything went perfect. Complete package with EVF 5612 12s TP6400, old style wheels and brakes. The Fury performed very well even with no gear doors which I want to retrofit now. The sound with the new intake is just incredible .... I had a real big smile after the first flight which just took 3500 mAh after 4 min of flight. Second flight was 5:30 where I was much more relaxed. I just can say I love the Fury the paint scheme and the flying characteristics ....
---
From: whmc1
To: Patty
Sent: Friday, May 22, 2009 2:18 PM
Subject: EVF Sabre
Bob, Patty and Staff,
Just a quick picture of my Sabre with a 5212 fan and TP 40c 12s batts. Mucho thrust. Took the 20 year old kit and did a major up-grade. Now plug-in wings, beefed up tail, landing gear plates etc. Brought back memories of pre- ARF days! Lots of work but well worth it. Thanks for your support in getting me updated parts.
---
From: Michael Cramer
Sent: Sunday, October 19, 2008 6:58 PM
To: BVM
Subject: AFS F-86 Sabre
Bob,
I thought I would send you a few pictures of my new EVF powered AFS F-86 Sabre. It was flown for the first time two weeks ago and flew great!
The F-86 was a long term project and it was worth the wait. With the simplicity of the EVF, I am glad I converted it to electric. I also would like to thank BVM Field Rep Dave Malchione for all his help, technical assistance, and performing the test flight. It has been a great experience. I have already ordered an Electra Jet for my next project. Hope to see you at a jet rally next year.
Thank you,
Mike Cramer