Kits Available:
F-100
ARF PLUS "1:7.5" F-100 Complete Kit
Order/Deposit Policy
F-100
Length: 83.6" (2123mm)
Wingspan: 70" (1775mm)
Power: 27-32Lb (12-14Kg)
Dry Weight: 30-32 Lbs (13-14.5 Kg)
Radio: min. 9 servos required
Kit Price
$2,950.00 (painted)
includes: landing gear, air kit, fuel tank, tailpipe, cylinders, hardware, and cockpit details.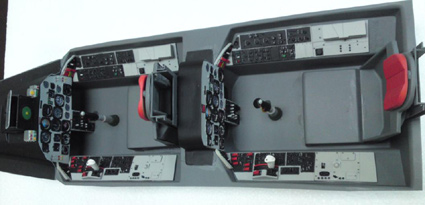 Included Cockpit
Options:
Speed Brake kit (installed) $ 65.00 (AP109)

Under wings tank set (unpainted) $ 95.00(AP110)
Under wings tank set (painted) $ 135.00(AP110P)


Call for freight quote

Paint Schemes:
# AF101 $2,950.00

# AF102 $2,950.00

# AF103 $2,950.00

# AF104 $2,950.00

# AF105 $2,950.00

# AF106 $2,950.00
PRICES SUBJECT TO CHANGE WITHOUT NOTICE
Contact Us
All graphics, photos, and text Copyright 2016 BVM, Inc.
Use of graphics or photos without written permission from BVM is strictly prohibited.