Patty,
Got this "old" Sabre airborne at Thunder Thrust Sept. Watching it fly brought super nice memories of times spent with your Dad and Mom, along with all you young ladies of the Violett family. It was spectacular!

Previous to my ownership of the Sabre, it placed 7th at some World Jet Scale Event, a few years ago. It was sure a show attraction over the weekend. Your BVM "full bypass" technology made it perform extremely well while being fairly quiet.

Best wishes,
Owen and Nancy Penk
---
From: Jordan Morse
Sent: Thursday, April 2, 2015 10:57 AM
To: heather
Subject: Gen 2 F86 Build
All I can say is WOW. This jet built like a dream and all the components are first class. The jet balanced the first time I put it on the stand. We are running a K80G in it for power, and it has plenty of that. The Jet came in at 16lbs 14 oz with UAT full. We actually got 6 min flights in and still pulled about 32 oz out of the jet when we were done. The jet required no trim and flew like it was a sport Jet. I built this one for one of my customers. At the field that day I let a friend fly it that is in love with F86's. He will be contacting you to buy the new version of the 63" F86. He was that impressed with it, and said " I have never flown a jet on a maiden day that is that locked in and had no issues". I had to give most of the credit to you guys for designing a great plane, and a little to me for the build. :)
Here are some pictures from that day and a few from the night before finishing up the build at my shop. I build full time and wish all I built were BVM Jets! Great job! I build for Bill Cunningham as well and he was right, BVM's are the BEST!
Jordan Morse
Morse Aircraft Development
---
From: Steven DiMaio
To: Bob Violett
Sent: Friday, January 23, 2015 10:04 AM
Subject: Sabre Maiden
Bob,
Finally maidened my Sabre this past weekend. It flew great! I love this little jet! K60 for power with Spektrum HV servos and a Cortex. Also flew the Electra for a first time in a while with the new 9er rotor and Cortex, big difference!
Cheers,
Steve D.
---
From: Luis Ceja
To: Patty
Sent: Wednesday, July 31, 2013 7:21 AM
Subject: Hello Patty
I would like to share some pictures of my 18 years old BVM F-86. I flew this aircraft for the first time back in 1994 as a ducted fan with an OS MAX 91 engine, then upgraded it to a BVM 96 engine and then to a Jet Central Rabbit turbine which has proven to be a successful combination. The aircraft has logged 892 flights and still seems in pristine condition for such an old aircraft and why is that ?, because it´s a BVM aircraft and it´s flown as per Manual carefully following the SOP´s (Standard Operating Procedures)
Best regards.
Luis Ceja
---

click on image to enlarge
From: Luis Ceja
To: Patty
Sent: Monday, January 14, 2013 9:21 AM
Subject: Hello Patty
I just refurbished my BVM F-86, which I have since 1993 and has 841 flights. It is powered by a Jet-Central Rabbit turbine and is guided by a JR 12X radio. The performance even at high altitude like in Mexico City is outstanding.
Regards.
Luis Ceja
---
From: Mario Eduardo Martínez Delgado
To: Dustin Buescher
Sent: Tuesday, April 19, 2011 1:06 AM
Subject: Sabre F-86 AFS 60"
Hi Patty and Dustin,

I did the maiden flight yesterday on my F-86 60" AFS and I am very happy , it takes a time but I really wanted make a kit because was a very nice experience building the model, as always the great quality with BVM , I use a Jet Central Super Bee 14 lbs and I think it is a great and amazing combo , I use the JR 12X for guidance and the decals are from ProMark.
Mario Martinez
---
| | |
| --- | --- |
| | |
| (L-R - Spencer Arrowood, Doug Parker, and Eddie McCoy) | |
From: Harold
Sent: Tuesday, April 26, 2011 5:02 AM
To: Heather (BVMJets); James Little
Cc: Doug Parker
Heather, We are introducing the BVM electric jets to a club down in Hartsville S.C. I thought I would send you these pictures sent to me by the president of their club. The F-86 made everyone get a chair to watch. The jet got off the ground before it got 15 feet from the end of the fiberglass tarp runway.
Harold Little
---

From: Dennis Grady
To: Patty
Sent: Wednesday, March 24, 2010 12:51 PM
Subject: BVM F-86
Patty, I have attached three photos of my BVM F-86 ARF. I have spent about 100 additional hours after construction to detail the model to add a more scale appearance. My thanks to every one at BVM for the help in building the kit.
---
From: Behzad Pakzad
To: Patty
Sent: Wednesday, May 27, 2009 5:13 PM
Subject: F86 60"
Hi Patty
Finally I completed my 60" Saber with a Jetcat P60SE and test flew it on Sunday. Although I had not flown a jet / ducted fan since 1993, everything went great and the plane performed as expected. Attached is a picture after the first flight. I want to especially thank Dustin for answering all my questions no matter how "weird" they were. I look forward to finish my other BVM jets.
Sincerely,
Behzad
---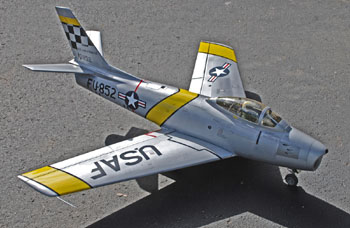 Date: Fri, 27 Feb 2009
From: Mike
Subject: 25 Year old F-86
To: BVM
Bob,
I have an F-86 I started with your help 25 years ago in Maryland. It was a prototype fuselage from your early days in business. Since I retired in July I looked for a project to test my enthusiasm for returning to RC jets.
---
Axel Hache and Andy Bothe of the Dominican Republic took to the air with this colorful P-60 powered AFS Sabre Jet. Axel has a few other jets that he enjoys and has Andy perform the test flights on his new models. This Sabre features rivets, panel lines, wing tanks and a detailed cockpit.
---
Mr. HM Habib of Karachi, Pakistan is enjoying his new turbine F-86 Sabre. His good friend Babar Sikandar was enlisted to perform the test flights and also sent us these photos of the detailed Sabre. Babar says that it is really amazing to fly.
---
David Plaine's BVM F-86 won him the JPO Top Gun Award at the 2006 Mid-Atlantic Jet Rally in Fentress, VA. The model is powered by an AMT AT-180, painted with PPG and BVM Metal Coat, and markings by Pro-Mark. BVM extends our congratulations to David.
---
Simon To of Hong Kong sent in this photo of his A.F.S. F-86F, built by Steve Jaworski in Plant City, Florida and finished in BVM Metal-Kote. It is P-70 powered with working speed brakes and releasable tanks.
---
---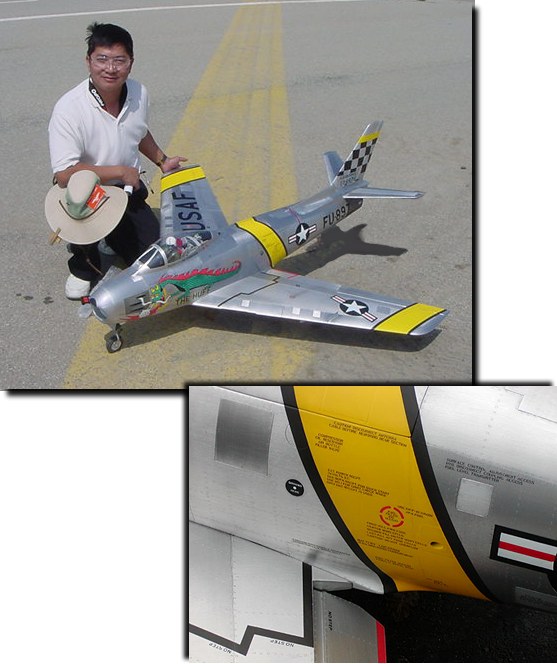 Daniel Nghiem of Huntington Beach, California is enjoying his new F-86 (AFS) with JetCat power thanks to skilled craftsman Kevin Barr (builder). Daniel logged many flights on his Sabre at Best in the West '04. Markings and nomenclature by ProMark.
---
Asif's "Huff"
Asif Ali Akbar of Lahore, Pakistan sent these photo's of his recently finished Sabre Jet. It features a BVM .91 with Viojett fan unit for power and has many scale details. Asif's friend, Mr. Wasif is the one responsible for building and detailing this Sabre including functional speed brakes, many ProMark rivets and weathering that can be seen below by the close-up photo's.
---
Stu Richmond and Beauteous Butch
Most of you probably recognize Stu from his many years as a contributing editor of sport flying articles for various magazines. Most recently he enhances the pages of R/C Report with his "Just Plane Fun" column.

Stu is now a "Jet Pilot". We had the opportunity at a recent outing at the RCACF field in Apopka, FL. to utilize the JR "Pilot Link" system to offer Stu some jet time. He flew the JetCat P-80 powered 60" F-86 perfectly.

All during the flight he was commenting on the smoothness of the model and the "sound", that awesome real sound of the turbojet engine.

Stu had made the effort to get a waiver some time ago - now he has reason to keep it current. Son's Bruce and Brian are also avid jet jockey's.
---
John Burdin from Lakeland, Florida flew his Sabre jet with RAM 500 power and absolutely enjoys it. The model was finished in the Skyblazers color scheme and has a fully detailed cockpit. Well known builder Steve Jaworski built and finshed this Sabre for John.
---
Frankie Mirandez from Guaynabo, Puerto Rico flies his BVM Sabre with a RAM 500 turbine. Frankie has many flights on this Sabre, both with the previous power system (Viojett/BVM.91) and with the RAM 500 utilizing the BVM F-86 turbine conversion kit.
---
Scott Booth from Davenport, Iowa recently won top honors "Best of Show" at the Quad Cities scale meet on July 29, 2001. Scott's Sabre uses a RAM 500 turbine for power and a JR radio. Hard to tell by this photo but the Sabre is detailed with thousands of rivets and plenty of weathering.
Contact Us
All graphics, photos, and text Copyright 2016 BVM, Inc.
Use of graphics or photos without written permission from BVM is strictly prohibited.