Touch-Up Paint | What is Go Fly Gold? | Central Control Unit (CCU) Instructions | Addendums | Color Schemes
BVM F-18 1:5.5 Scale
C Hornet
SINGLE ENGINE PRICE $12,199.00
TWIN ENGINE PRICE $12,699.00
includes freight shipped within the USA
Includes NEW BVM branded Servos

Specifications

Length:
Wingspan:
Weight:
121"
85.5"
52 Lb
Turbine Engine:
Channels Required:
Gyro:
250-310
18
Cortex Pro
NOTE: This airplane full of Fuel and Smoke will meet the requirements for the AMA Large Model Airplane Program. Please click below for more information on the LMA1 Program.
https://www.modelaircraft.org/largemodelairplane
Clicking on the link above will take you from the BVM website to the AMA website.

Special Features Installed

Central Control Unit (CCU)

Landing Gear w/Trailing Link Struts and Air System

Digital High Voltage Metal Gear Train

Servo Extensions and Linkage Rods

Navigation & Landing Lights

Fuel System

Doublewall Stainless Steel Thrust Tube

BVM Air Fill Valve

Air Tanks
BVM Servos Now Installed in
Models
BVM servos (32kg and 42kg) are now installed in our F-18 1:5.5 scale model.
The NEW BVM Servos offer a higher resolution than the previously installed servo's.
The 32kg & 42kg are HV, Digital, and Brushless.
Made by a well known manufacture in Taiwan.
Only available with a
model purchase. Not available for individual sale.
BLS 320 Specifications:
Torque @ 7.4v - 32.0kg/444.4oz-in
Speed @ 7.4v - 0.12 sec/60 deg
Refresh Rate: 333Hz
Motor Type: Brushless
Resolution (4096)
BLS 420 Specifications:
Torque @ 7.4v - 42.0kg/583.3oz-in
Speed @ 7.4v - 0.13 sec/60 deg
Refresh Rate: 333Hz
Motor Type: Brushless
Resolution (4096)
| | | |
| --- | --- | --- |
| Controls | QTY | Servo Type |
| Steering | 1 | 42kg |
| | | |
| Aileron | 2 | 32kg |
| | | |
| Flap | 2 | 42kg |
| | | |
| Rudder | 2 | 32kg |
| | | |
| Elevator | 2 | 42kg |
| | | |
| Canopy | 1 | 42kg |
Items Needed To Complete:
Available from BVM
(2) BVM # VU-7304EXB-EC3 - HiCurrent EXB 3000 mAh w/EC3
OR
(2) BVM # TP4000-2SPXRX - ThunderPower RX 4000mAh 2-Cell/2S 7.4V
(1) BVM # 6044 - BVM Ultimate Air Trap

12 Channel Receiver minimum
#V-WB 15 JET PILOT 15" Jet Pilot Modern $139.99
Pilot available in different colors
TWIN Engine Fuel Install Kit
# PA-SR-9305
$284.99
SINGLE Engine Fuel Install Kit
# PA-SR-9505
$284.99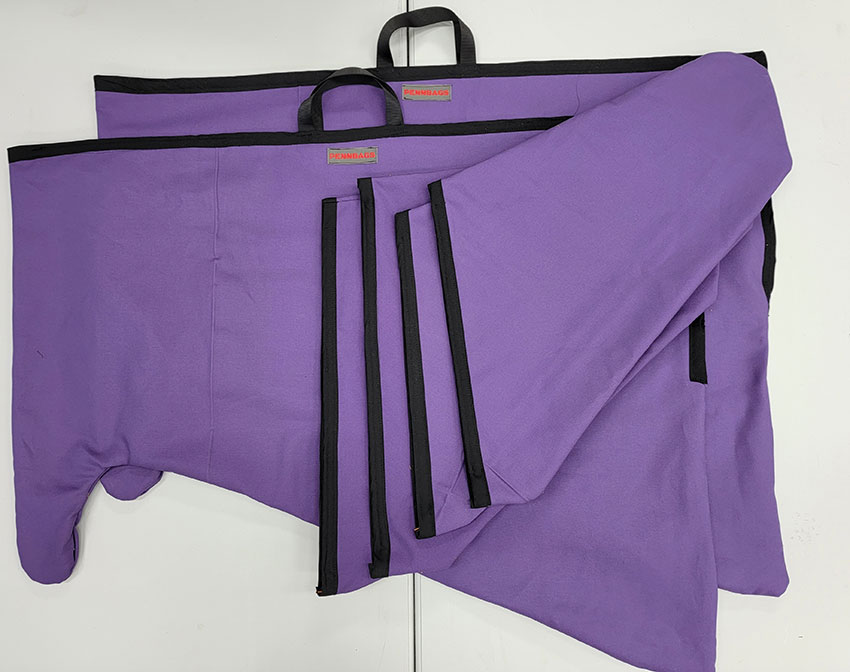 Set of Wing & Tail Bags $265.00
Optional Gyro

Of course, a properly set-up Gyro smoothes things out especially in the wind.

#V-DA-BD-CORTEXPRO Bavarian Demon Cortex Pro $299.00
Engine Choices
Your choice of 250-310 Lb turbine
Call BVM for combo pricing.

SINGLE ENGINE PRICE $12,199.00
TWIN ENGINE PRICE $12,699.00
includes freight shipped within the USA
Includes NEW BVM branded Servos
Custom paint schemes are available for up to a $500.00 artwork, documentation and development fee.
There are many paint scheme options that are not currently on our site. We are working diligently to update the website with all the existing schemes. Please give us a call if you have a scheme in mind to see if it is already in our archive.
Thank you for your understanding and continued support.
Australian 20th Anniversary
# K9500-04
VFC-12 FIGHTING OMARS
# K9500-09
Navy Aggressor
Tomcatters
# K9500-19
Wild Cats
# K9500-13
Roll Out
# K9500-10
Silver Eagles
# K9500-17
Tiger Black/Orange
# K9500-22
# K9500-00
Navy Aggressor Blue Camo
# K9500-20
Diamond Back
# K9500-24
Canadian 20th Anniversary
# K9500-21
Canadian Anniversary
# K9500-14
# K9500-29
Tiger Meet 25th Anniversary
# K9500-12
60 Years of Norad
# K9500-11
VFA-122 FLYING EAGLES CENTENNIAL OF NAVAL AVIATION
# K9500-30
Chippy Ho
# K9500-18

# K9500-08

Blue Angel
# K9500-06
Other schemes available upon customer request.
Airframe Directive (A.D.)
And other helpful notes
F-18C Addendum #06222021
Fuse Former Addendum for Single and Twin versions
Kits shipped after June 22, 2021 will already have this installed.

Click here to download (pdf file) (509 KB)

To receive this addendum at no charge, please contact BVM.
---
F-18C Addendum #10172019
Wing Strengthening Addendum
Kits shipped after October 17, 2019 will already have this installed.

Click here to download (pdf file) (5117 KB)
To receive this addendum at no charge, please contact BVM.
---
Sent: Sunday, October 16, 2022 5:25 PM
To: Patty <patty@bvmjets.com>
Subject: BVM F-18 dream

Patty,
I canít thank you , Heather and Rob and the rest of your team enough for all the support in getting this 1/5th scale F-18. The dedication, determination and the basic willingness to go the extra mile was absolutely appreciated!! The entire experience was fantastic. This plane is a show stopper and fly amazing!!!

Thank again for everything you guys are a pillar in the hobby community for sure!!!!

God speed and safe flying..

V/R
Chuck Russell
---
Hi Patty,
Hope all is well. I just happen to catch a few nice shots of the plane. Itís really a beautiful model! Great work!


Thanks,
Jay A. Foehr
JFK A320 Captain
---
Good Morning Patty,
Flew my 1:5.5 F-18 twin. What a awesome jet! Thank you for all your help.
David Soufer
California
MICHAEL SARYSZ and SAL DiFLORIA WITH THE BVM F-18 1/5.5 SCALE HORNET

SALS HORNET IS POWERED BY (2) EVO 170 TURBINES
MICHAELS IS A SINGLE VERSION POWERED BY AN AMT OLYMPUS HP TURBINE.
---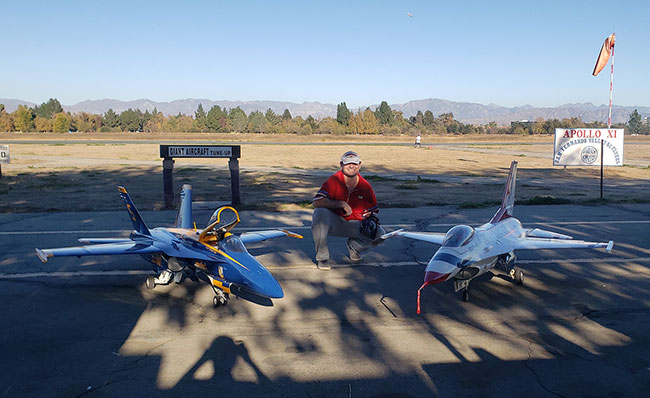 Vadim Konviser from Playa Del Rey, CA with his F-18 5.5 and F-16 1:5. The F-18 has twin Jetmuntz 166S, Spektrum DX18, and a Cortex Pro. The F-16 has a Jetmuntz 250XBL, Spektrum DX18 and a AS3000X.
James Hillin from Houston Texas with his BVM F-18 5.5 scale Blue Angels scheme.
"I've had quite a few RC JetĎs over the years. By far BVM is the best right out of the box flights are amazing."
James Hillin
FullArmor Firearms
---
From: Kelly Rohrbach
Sent: Monday, April 19, 2021 9:34 PM
To: Heather@bvmjets.com
Subject: Hot shot pictures of our 1/5th F18 and Classic Ultra Bandit

Hello Heather
Here are a couple pictures from Tucson Jets 2021 where we did both maidens on these two birds,
F18 is powered by Swiwin 300 and guided by JR 28x. Classic Ultra Bandit powered by Swiwin 220 and guided also by JR 28x.

Look for them both at Kentucky Jets

Kelly Rohrbach
From: Brown, Jermaine
Sent: Monday, October 19, 2020 1:48 PM
To: Patty@bvmjets.com
Subject: Hotshots :)


I couldnít be happier with it Patty! You guys did an amazing job, itís perfect!



Jay Brown
Chris Gleason from New Fairfield, Connecticut with his BVM F-18 5.5 scale. The F-18 is powered by a
K-320G4 and guided by a DX-20 and a Cortex Pro.
Greg Alderman with his 1:5.5 scale BVM F-18. The F-18 is powered by twin JetCentral 160s and Jeti guidance.
Richard Verano with his BVM F-18 1:5.5 scale. He flies it with JR28X and a Cortex Pro. He has a single K320 for power.
This photo was taken in Stage Coach, Nevada
---
Barry Hinrichs (L) and Sylvain Allard (R) with their very visible 1:5.5 scale F-18ís. Barry's F-18 is guided by a Spektrum IX 20, Cortex Pro and is powered with a single K320. Sylvainís F-18 is also Spektrum guided with a Cortex Pro. His is powered by 2-K160'S. Barry has more than 70 flights on his now since January of this year.
Sylvain just put the first 3 flights on his.
---
Jan Sundberg (L) and Dave Fusinato (R) with their beautiful 1:5.5 scale F18's. They both did their maidens last weekend. Both planes are flying with Spektrum DX18's for guidance and AS3000 gyros. The planes are powered with K320's.

Congrats to them both.

---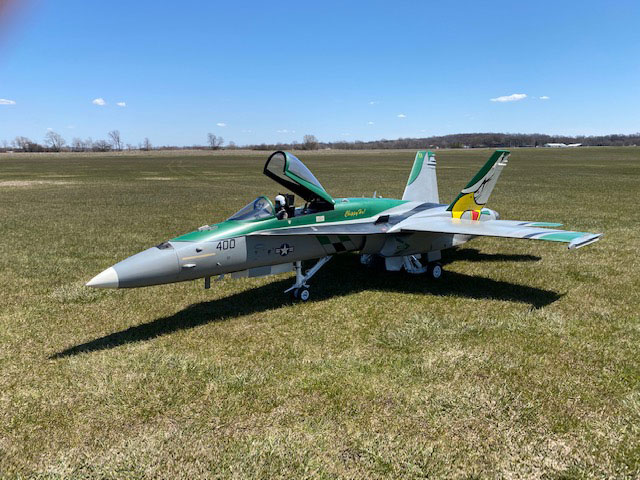 From: Paul LeTourneau
Sent: Monday, April 27, 2020 11:43 AM
To: Patty
Cc: Rob Lynch
Subject: F-18 maiden
Good morning Patty & Rob,
I was able to maiden the F-18 yesterday in Fond du Lac WI, all I can say is that its an incredible flying aircraft!! The BVM team has certainly produced a first class model!
Thank you for all the support and I look forward to more of the BVM PNP aircraft!
Paul LeTourneau
Contact Us
All graphics, photos, and text Copyright 2022 BVM, Inc.
Use of graphics or photos without written permission from BVM is strictly prohibited