Touch-Up Paint | Central Control Unit (CCU) Instructions | What is Go Fly Gold? | Color Schemes
BVM F-18 1:7.75 Scale
E/F Super Hornet
PRICE $7,599.00
includes freight shipped within the USA
Includes NEW BVM branded Servos
Specifications

Length:
Wingspan:
Weight:
88"
67"
34 Lbs
Turbine Engine:
Channels Required:
Gyro:
30 - 36 #
12 - 15
Optional
The shock absorbing landing gear is grassfield proven.
.
Special Features Installed

Central Control Unit (CCU)

Landing Gear w/Trailing Link Struts and Air System

Digital High Voltage Metal Gear Train

Servo Extensions and Linkage Rods

Navigation & Landing Lights

Fuel System

Doublewall Stainless Steel Thrust Tube

BVM Air Fill Valve

Air Tanks
BVM Servos Now Installed in
Models
BVM servos (32kg) are now installed in our F-18 1:7.75 scale model.
The NEW BVM Servos offer a higher resolution than the previously installed servo's.
The 32kg are HV, Digital, and Brushless.
Made by a well known manufacture in Taiwan.
Only available with a
model purchase. Not available for individual sale.
BLS 320 Specifications:
Torque @ 7.4v - 32.0kg/444.4oz-in
Speed @ 7.4v - 0.12 sec/60 deg
Refresh Rate: 333Hz
Motor Type: Brushless
Resolution (4096)
| | | |
| --- | --- | --- |
| Controls | QTY | Servo Type |
| Steering | 1 | 32kg |
| | | |
| Aileron | 2 | 32kg |
| | | |
| Flap | 2 | 32kg |
| | | |
| Rudder | 2 | 32kg |
| | | |
| Elevator | 2 | 32kg |
Items Needed To Complete:
Available from BVM
(2) BVM # VU-7304EXB-EC3 - HiCurrent EXB 3000 mAh w/EC3
OR
(2) BVM # TP4000-2SPXRX - ThunderPower RX 4000mAh 2-Cell/2S 7.4V
(1) BVM # 6044 - BVM Ultimate Air Trap

12 Channel Receiver minimum
Warbird Pilot - Modified $79.99
BVM # V-WB-10"/8 Jet Pilot
Set of Wing & Tail Bags $235.00
Engine Choices
Your choice of 30 - 36 Lb turbine
Call BVM for combo pricing.

Optional Gyro
NOTE: BVM prototype was flown without a Gyro.
Of course, a properly set-up Gyro smoothes things out especially in the wind.

#V-DA-BD-CORTEXPRO Bavarian Demon Cortex Pro $299.00
List of Adhesives/Lubricants:
| | |
| --- | --- |
| | |
| HeatShield BVM #PA-MA-1940 | BVM Dry Lube BVM #1947 |
PRICE $7,599.00
includes freight shipped within the USA
Includes NEW BVM branded Servos
Custom paint schemes are available for up to a $500.00 artwork, documentation and development fee.
There are many paint scheme options that are not currently on our site. We are working diligently to update the website with all the existing schemes. Please give us a call if you have a scheme in mind to see if it is already in our archive.
Thank you for your understanding and continued support.
#K3300-27
Top Gun Maverick
#K3300-21
Tigermeet Canadian of Americas 2003
#K3300-22
Redcocks
#K3300-24
Navy Test Pilot School
#K3300-26
VFC-12 Navy Aggressor Ambush Fighting Omars
#K3300-14
VFA-122 Flying Eagles Centennial of Naval Aviation
#K3300-25
Canada 150 "Maple Leaf"
Fantasy Scheme
#K3300-20
Super Bee
Fantasy Scheme
60 Years of Norad
# K3300-15
Roll Out
# K3300-17

#K3300-09
Blue Angel

#K3300-03
Black Aces

#K3300-10
Salty Dogs

#K3300-08
Bounty Hunter

#K3300-06
Navy Aggressor

#K3300-01
US Navy Diamond Back

#K3300-07
Jolly Rogers
Customer Hotshots
click on images to enlarge
BVM 1:7.75 F-18 owner Randy Ott, Houston, TX. 2022 Top Gun Lakeland, FL
---
Chad Wrightson from Florida is now a proud owner of this BVM F-18 7.75. He is all smiles after five flights on the F-18. This is powered by a Swiwin 190.
---
Michael Danielson with his BVM F-18 1:7.75 scale recently attended the NAMFI event in Owatonna, MN.
(L-R) Zane, Jacob, Caleb, and Mike
---
Hi Patty,
I wanted to send along a picture of my 1:7 F-18. You guys did an amazing job on this plane! Hats off to Rob and the BVM team for all the assistance with the maiden at Jets Over Kentucky. I have several flights on it now and it flies amazing. Itís powered by Swiwin 170 with Cortex Pro onboard along with Spektrum IX20 for guidance. Looking forward to my next BVM jet!
Thanks,
Brandon Rust
---
Arturo Espinoza from the golden Saltillo Coahuila Mexico on the first flight with his F-18 7.75 scale. This F-18 is powered by a KingTech 160 V2 turbine and a Jeti DS-24 radio.
---
Hello Patty,

I wanted to send you a photo of my second BVM model. This F-18 1:7.75 scale follows the same great lineage as my 5 year old BVM Cougar. This Hornet is powered with a King Tech K160 G2 and uses a DX 20 for guidance. Also a Demon Cortex Pro on board for the windy days. The Hornet flies faster and maneuvers quicker than the Cougar, but in the end they are both unbeatable models for any day flying and easy for one person to handle. It is the perfect hanger mate for my BVM Cougar.

Thanks again for all the great help the BVM staff is famous for.
Rod Wilkinson
Wasilla, Alaska

---
Marshal Emmendorfer and Steve Pully flew together at the Michigan Jet Rally in Baldwin, MI.
Marshal flew the BVM F-18 1:7.75 Scale and Steve flew his ( 15 year old ) BVM F-4.
---
Hi Rob, Heather and Patty,

Here are some pictures of my BVM F-18 1:7.75 Scale PNP this past weekend at MN Jets. This is a great flying model that draws a lot of comments when people get to see it. Thank you for all the continued support providing high quality models and great customer service!

Thanks,
Mike Danielson
---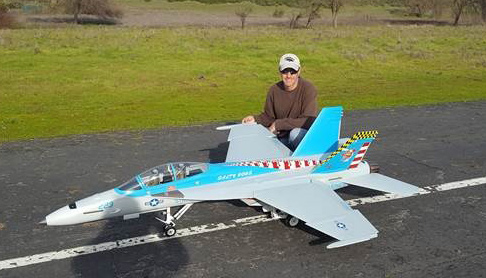 Darren Braun from San Jose, CA is all smiles after the maiden flight this past weekend. The F-18 1:7.75 scale PNP in the Salty Dogs scheme is powered by a KingTech K-140G2.
---
Chris Balling from Arizona with his BVM F-18 1:7.75 scale PNP in the Blue Angels scheme.
Contact Us
All graphics, photos, and text Copyright 2022 BVM, Inc.
Use of graphics or photos without written permission from BVM is strictly prohibited