Touch-Up Paint | What is Go Fly Gold?
BVM Viper Jet 1:9M
A "Fun Scale" version of a popular home built aircraft is now a
BVM sleek looking everyday flyer.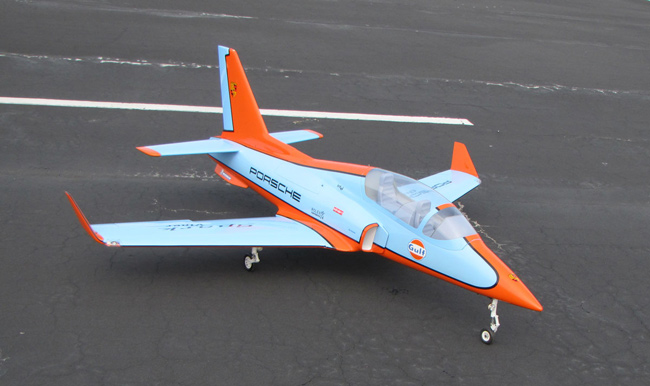 PRICE $4,295.00
includes freight shipped within the USA
Go Fly jets from BVM require just a few hours of your time from box to being flight ready. Tasks require installing a radio receiver and batteries, bolting your engine to the fully prepared mounts, and connecting the fuel and smoke system tubing. A few electrical connections activate the Navigation and Landing Light system. To assist you in these tasks, the BVM Viper Jet comes with a photo enhanced "Assembly and Flight" manual.
Specifications

Length:
Wingspan:
Weight (dry):
75"
72.5"
24 Lbs
Turbine Engine:
Channels Required:
Gyro:
17-22#
12
Optional
.
Included and Installed Accessories:
Servos, Extensions, Gear Valve, Brake Valve, Navigation and Landing Lights, Light Controller, Fuel tanks, Smoke tank, Smoke pump, BVM Air fill Valve, BVM Air Gauge, Air tanks, Scale Landing Gear, Wheels and Brakes, Cockpit deck, and doublewall Stainless Steel thrust tube.
The Shock Absorbing Landing Gear is grassfield proven - see video clip.
Items Needed To Complete:
Available from BVM
(2) BVM # VU-7304EXB-EC3 - HiCurrent EXB 3000 mAh w/EC3

(1) BVM # 6044 - BVM Ultimate Air Trap

12 Channel Receiver


Click Here to see the variety of 12" Tall Pilots that BVM has to offer.
Engine Choices
Your choice of 80 - 100 Neuton turbine
Call BVM for combo pricing.

Optional Gyro
NOTE: BVM prototype was flown without a Gyro.
Of course, a properly set-up Gyro smoothes things out especially in the wind.

#V-DA-BD-CORTEXPRO Bavarian Demon Cortex Pro $299.00
List of Adhesives/Lubricants:
| | |
| --- | --- |
| | |
| HeatShield BVM #PA-MA-1940 | BVM Dry Lube BVM #1947 |
#K3400-01
Red/White Checker

#K3400-02
Vodafone

#K3400-03
Canadian

#K3400-04
RAF

#K3400-05
Green/White Checker

#K3400-06
Brown/Black

#K3400-07
Green/Yellow Checker

#K3400-09
Jolly Roger

#K3400-10
Porche

#K3400-11
Nascar
Contact Us
All graphics, photos, and text Copyright 2018 BVM, Inc.
Use of graphics or photos without written permission from BVM is strictly prohibited