From: Robert A Brubaker
Sent: Tuesday, September 14, 2021 11:26 AM
To: Patty@bvmjets.com
Subject: Thank You


Hi Patty - Had a great time building out the beautiful BVM F100D. Took a few years with some breaks thrown in, but finally got the jet finished and flying. Thanks for the tech support and input from Rob Lynch also. Just a few clicks of trim and she was flying well.



Bob Brubaker

Houston, TX
---
Patty,

The F100 is such a solid flying airplane. Like nothing I've ever flown before. Thank you to the BVM team for the engineering that has gone into this incredible model. I'm looking forward to lots of flights with the F100 and bringing it to Best in the West in a few weeks.

Jeff Lovitt

---
From: Ritch
Sent: Tuesday, October 11, 2016 2:03 PM
To: Patty
Subject: BVM F-100
Hi Patty,
Sending picture of my F-100 painted in a Sky Blazer scheme. Fly's like a sport jet with power to spare with a Jet Central Cheetah. Thanks for designing a great F-100.
Regards,
RITCHIE HOLT
---
From: Roger Perrett
Sent: Sunday, July 10, 2016 9:02 PM
To: Patty Generali; 'Heather (BVMJets)
Subject: My F-100D has finally flown.
Hi again Patty and Heather
After a long build, my F-100D has finally taken to the air.. As you can see I have detailed it to represent a Vietnam combatant, with all the paint flaws, dirt and wear that these aircraft exhibited when in combat..
The test flight went very smoothly, and although I would not say the F-100 is a trainer, it is very predictable, quite stable and was easy enough in the landing pattern.
One of the great things about building a BVM model, is knowing that at the end of the process, when you have put in a lot of effort, the finished product is a known quantity, and will perform well in the air.
Thanks again.
Roger Perrett (Sydney)
---
From: Dave A. Phillips
Sent: Tuesday, July 12, 2016 7:54 PM
To: Heather
Subject: Fwd: F100
Hi Bob, Patty,
Flew this airplane again today, Its just amazing how straight and well she fly's. Thanks again for all your help.
Regards,
Dave A. Phillips
---
From: Ritch
Sent: Monday, February 29, 2016 10:21 AM
To: Patty
Subject: F-100
Hi Patty,
Maidened my new BVM F-100 painted in the Skyblazers scheme. Rob Lynch did a fabulous job doing final rigging, setup and maiden flight. Rob and I did 8 flights on it and it flies amazingly, like all BVM Jets.
Regards,
RITCHIE HOLT
Editior Note: Paul did the paint work and used BVM's Jet Metal for the aluminum finish (part # PA-SR-1970) and BVM's Hot Section Paint Kit (part # BVM1955)
---
Featured at a recent weekend jet meeting in Doha, Qatar was Nasser Al-Rabban and Khalid Kamal Naji PhD with
these BVM jets.
Awesome flying site!
---
From: Gabriel Pellegrini
Sent: Monday, August 11, 2014 3:18 PM
To: Heather
Subject: F-100 pictures
Heather,
Here are some pictures of my F-100D. The best scale plane I ever had.
Best,
Gabriel
---
From: Rafael Villeda
Sent: Monday, August 11, 2014 11:57 PM
To: Patty Generali
Subject: F-100D Maiden
Dear Patty and Crew,
Thank you so much for such a great jet. The build, though intense and long, was fun and I enjoyed it thoroughly. The first flight was nothing short of magical. I am looking forward to having this jet as another BVM "old faithful". Building and flying a BVM F-100 is a milestone in one's R/C career and I can say that I've done it!
Sincerely,
Rafael
---
Greg Wright from Aurora, IL has added a second F-100 to his extensive stable of BVM Jets. Greg has flown at many events during the past few years and plans to enter his latest, superbly crafted, "Hun" in Top Gun 2014 Team Scale event with David Payne.
---
Patty,
Thought that I would send you these pictures from the 2013 U.S. Scale Masters. It was held in Davis Calf. (near Sacramento) a couple of weeks ago. We had a great time visiting and competing, meeting new friends and seeing a number of old ones. As you can see in the attached pictures we were fortunate to achieve a first place finish in the Advance category. This category judges static of the aircraft along with five flight rounds. There is no builder of the model rule in this category. The aircraft scored a 98.5 in static and along with some decent flight rounds I was able to beat out another BVM F-100 flown by Jack G. Diaz for first place. Needless to say the BVM F-100's ruled the day in this class. Thanks for a great reliable product and awesome support.
Rod Snyder
President
Snyder Signs, Inc.
---
Name; Dave & Karen Phillips
Home; North county San Diego,Ca.
Status; Retired from American Airlines, 52 years of flying airplanes and still going.

I try to attend 5 to 6 Jet Events per year, mostly in the western half of the country. I have however, flown at both, Florida Jets and Jets over Kentucky. This summer we will attend two events in the Washington state area.

The airplane pictured is a BVM F-100 D, built originally by Shailesh & Neil Patel. The entire airplane is finished in Flite Metal to near perfect detail by the Patel's.

I recently finished a complete rebuild of everything on the inside. It now has a complete line of Fataba BLS servos, It is controlled by a Futaba 14 MZ thru a Smart Fly EQ6 Turbo power box I have a Act Gyro on the Ailerons. The empty weight is now 34.2 lb.. She is powered by a Jet Central Cheetah engine, which pushes this airplane amazingly well.

The airplane now has an operating canopy, operating high voltage LED landing lights, operating tail skid, and a operating drogue chute both by Details for Scale. She also has a complete set of Missles inboard and the 500 lb. bombs outboard of the tanks.

The airplane is a wonderful, solid, stable, flying machine.
regards,
Dave
---
From: Shani Studnik
To: Patty Generali
Sent: Thursday, March 21, 2013 9:32 PM
Subject: F-100
Dear Patty and Bob
Had a free afternoon and figured it was time to put the good old "Hun" thru its paces. This is still my favorite jet in the fleet. The "Hun" is super sleek, and super fast. Thanks
Dr Shani Studnik
---
From: Greg Wright
To: Patty Generali
Sent: Wednesday, April 10, 2013 6:13 PM
Subject: Toledo expo
Dear Bob, Patty, Dustin and the whole BVM Crew,
I would just like to say thank you to everyone there for another great product. I attended the 59th Weak Signals R/C Expo this past weekend and for the first time in my thirty-seven years of being in the hobby I brought an air plane for the competition and display area.
Well to my surprise I ended up taking home first place in the jet category. So I thought I would just send you some pictures that where taken. I would also like to let you know that Terry Nitsch took home second place and The Best finish awards with his Skymaster F-86 Sabre. Congrats Terry.
---
From: Michael Barczak
To: Patty
Sent: Tuesday, March 13, 2012 12:29 PM
Subject: F-100 Pictures
Hi Patty,
Attached are some of the pictures of my F-100 D from the 2011 World Jet Masters in Dayton, Ohio. I started this project back in 2006, after being inspired by Joe Grice's model which graced the pages of RCJI! The kit was an awesome build. Lots of fun and very rewarding at the same time. Jetcat P-160 for power, 12X guidance, JR and Hitec Titanium servos. Pro-Mark markings.
This Jet was entered as a Team effort with John Wiebe of Model Aviation Products (MAP) as the pilot (left in picture) and myself as the builder/spotter.
We test flew the model only 3 days prior to the event, yet we were confident that things would go smoothly. The F-100 flew as if on rails. Very solid and smooth.
The best part of the event was when an Airforce Veteran noticed the markings of my F-100 and recognized them as his friends aircraft from Vietnam!!! He discussed many aspects of the real F-100,its maintenance, and stressed how much more dirty the real jet was. The original Pilot was Capt. Don Kilgus.
Thanks again for the great Jet KITS !
Mike Barczak
Winnipeg, Manitoba
---
From: Shazam Kianpour
To: Patty Generali
Sent: Thursday, February 23, 2012 6:26 PM
Subject: Patty, here's my Hun!
Hey Patty,
Here are a couple shots of my F100D, finished in Flight Metal, ProMarks Graphics, P160SX, All JR servos. Flies like an arrow, lands where you tell it to. Simply awesome! Thanks again! :)
Shazam S. Kianpour, Esq.
---
From: Greg Wright
Sent: Wednesday, November 16, 2011 10:21 AM
To: BVMJets
Subject: F-100 Super Sabre
To Bob, Patty, Dustin & everybody at BVM,
As some of you know I have been flying my F-100 all summer long in primer. Well, when my flying season ended back in October I finally had some time to star putting the finishing touches on this absolutely great designed and flying airplane. I just can't say enough about how much I have enjoyed it. Anyway, I am sending some pictures of the finished plane to you and would also like to say thank you for all the support you give anytime I need it.


Thanks Again
Greg Wright
---
Shani Studniks BVM F-100 at Monster Planes 2011.
---
From: Khalid Naji
To: Patty Generali
Sent: Sunday, October 09, 2011 6:39 AM
Subject: Update on the F100

Dear Patty,
This is to confirm my 5th flight on Bob's personal F100D model. Although I have flown many F100s I have to confirm this one is the best I have ever had.
It feels so light and very stable despite the years of service on this BVM bird. Additionally, the Titan power is just more than adequate for this model, and I have confirmed that model in 40 C degree during summer. Basically, I am honored to have Bob's personal model and glad for such deal.
Please convey my best regards to Bob.
Khalid
---
From: Frankie Mirandes
Sent: Thursday, April 14, 2011 12:46 PM
To: 'Bob Violett'; 'Heather (BVMJets)'; Dustin
Subject: Ready for TG and looking forward to many successful sorties
Well, It took a long time, but we are ready. Detailing the plane after it was flown in primer was a great decision. It builds confidence, knowing you are finishing a model that will fly great.
The plane is finished in Flite Metal, which is great for people that do not have much time to paint. Come in at night and do a few panels. Piece of cake ! I used Pro-mark graphics and as always the results are outstanding. Reliable Jet cat P-160 for power and a JR 12X DSM2 for all the avionics.
Looking forward for many future sorties! Thanks to the BVM team.
Frankie Mirandes
---
From: Frankie Mirandes
Sent: Friday, June 11, 2010 11:23 AM
To: Heather
Subject: Frankie's F-100
Well it has been probably 7 years since I purchased the F-100 from BV. Too many things in the way, but this morning Ricardo and I maiden the Hun in primer. Right now I am kicking myself for taking this long to finish the plane. This thing flies absolutely awesome! Solid, stays where you put it and the landing are a breeze, power on approach and nothing but perfection. In this era of ARF's many people do not know what they are missing when building a BVM kit. At this point I am looking forward to detailing my HUN. Keep it up Bob, looking forward for your next scale kit.
Regards
Frankie
---

From: Fabien VAGNOT
Supplied by: Al's Hobbies Jet Centre
Cc: Patty
Sent: Monday, March 22, 2010 7:11 AM
Subject: F100 BVM
Hi Ali, Patty,
To inform you that after months of building and finishing I flew my "Hun" for the first time yesterday at my "grass" field. To steady my nerves and get that "High Performance" jets feeling I flew my Rafale first! The similarity between the two jets was incredible! The F-100 has a very strong and solid feel. That combined with the realistic "Jet" sound makes for quite an impressive plane!
On the first flight the CG was slightly forward which I will adjust before the next flight. The F-100 presented surprises and responds precisely to the control inputs especially the elevator. Marvelous!
While the F-100 is very powerful and fast, when it is time to land, with slats and flaps extended it is very solid and stable. With approx. 50% power the landing pattern is superb and easy, allowing for very precise and realistic landings. A dream for pilots and awesome for spectators!
Before the next flight I will be adding Gyros, Speed Brake, and the Drag Chute. I will also be adding some finishing touches with ProMark Rivets and a Scale Canopy (I built a motorized canopy that replicates the full scale in appearance and duration). I will send your videos and pictures.
An incredible plane BVM has developed! The plane has safely landed, but personally I am still in the clouds!!
Thanks alot!
Best Regards,
Cordialement
F.VAGNOT
---
From: Shani
To: Patty
Sent: Monday, October 19, 2009 10:33 PM
Subject: pics from monster planes

Hi Patty
Here are a few pics from Monster Planes. I won several awards thanks to the best jet ever, The F-100.. Here's also a couple pics of my Skymaster F4 with afterburner lights on.
---
From: Al's Hobbies Jet Centre
To: Bob
Sent: Monday, August 18, 2008 11:10 AM
Subject: Als Hobbies
Hi Bob,
Just a quick email to say how delighted I was with my first flights of my F-100. The model is ex Ian Richardson built. Its nearly 10 years old and as fresh and solid as many a new model I have owned. It flew just as everyone said it would.. On rails! Yes its fast, yes its heavy but it with this comes the type of solid sit in the air that I have had to fit gyros in other models to replicate. There is allot of hype about some models, but I am glad to report that the F-100 is everything that all those pilots rave about.

---
From: Patrick Frost
To: Patty
Sent: Wednesday, August 06, 2008 2:27 PM
Subject: F-100D pictures
Bob and Patty,
I am absolutely speechless when it comes to my new F-100D! I have dreamed of owning one of these for years and have loved the detail and engineering that BVM has crafted into this timeless aircraft. Believe me when I say this bird flies as good as it looks! I have owned every modern day scale BVM aircraft except for the large Sabre and I must say that this is the best flying scale jet I have flown to date. It tracks silky smooth and has no bad characteristics. The Hun had 6 flights with my JR 10X radio and I recently converted it to the new JR 12x 2.4Ghz radio and flew it at Cincinnati Jets and I must say that there is a major difference and a sense of "instant connection". I simply cannot wait to crank out many more flights on this beauty.
The F-100D was built by Gary Jefferson and painted with Metal Kote II and painted with PPG - superbly done by Ben Burden. The Hun has 40,000 rivets and Nomenclature by Pro-Mark Graphics. I have since created a fully functional canopy with dual locking mechanisms and a detailed cockpit. I have also installed Details 4 Scale: drogue chute, lighting system, armament, nose gear strut, antennas, tail hook, and much more! I have created some extreme weathering on this Hun but it is the way I believe them to have looked during the Vietnam Era.
If anyone is interested in a genuine scale Jet................this is the one!
Sincerely,
Patrick Frost
"Frosty"
---
---
---
---
Khalid Naji of Doha, Qatar is the proud owner of this beautiful Flite-Metal'd F-100D built by Max Ahlmen of Sweden. Pro-Mark Graphics were used to replicate this D model. Power is provided by a Simjet Nexus and the model flies excellent. Khalid is a very active BVM modeler in Qatar enjoying his Super Bandit as well.
---
Jim Jensen of Minnetonka, Minnesota brought his F-100D down to Florida for the initial test flights. As you can see by the smiles, all went well. The model is equipped with all JR radio gear and an AMT Netherlands Pegasus HP for power.

The profile view of an F-100 on a low fly-by is inspiring and the yellow trim on this one make it especially so.
---
Mark Taylor has refinished his Hun in Flite-Metal for Top Gun 2005. Mark's F-100D looks brilliant with the new finish and he utilized the BVM F-100 Hot Section Detail Kit to simulate the rear Titaniun hot section.
---
---
Candy Striped Hun
Jack Diaz's choice to model the F-100D of the 48th Tactical Fighter Wing with special TFW Weapons Team markings is an excellent one.

This 1958 paint scheme is featured on the back cover of Squadron Signal Publications #6565 F-100 Super Sabre in Color.

BVM Metal-Kote and PPG Concept colors are the finishing products.

Jack has been logging many flights on his Hun as depicted in the new photo's we received below.
---
These two F-100D models (above and below) were professionally built by BVM Rep Kelly Rhorbach for David Soufer and John Payne of southern California. Both models are finished with Coverite Presto and PPG paint with ProMark rivets and nomenclature. These models are completely detailed and feature custom opening canopy's. As with most scale models, the photos hardly do them justice.
---
---

Except for the cactus tree, this could be a "Hun" returning to a base in south Vietnam with unspent ordinance. The intended target was weathered in. Click to enlarge.

Mark Taylor of Fresno, California sent in this photo taken by Frank Huppenthal at the Arizona Jet Rally. Notice the nose high attitude on final and the heat trail exiting the rear of Mark's P-120 powered F-100.
---
Dan Avilla accomplished one of our favorite paint schemes with this insignia red and Coverite Presto covered F-100D.

The Artic scheme was applied to the Hun's for trans-Atlantic flights to England and Germany. The red laquer was then removed as the local squadron schemes and logos were applied.

This is a gorgeous model that offers the best visibility possible on this 1960's era fighter. Many additional scale details such as slots, vents and thousands of rivets with weathering are representative of Dan's superb craftsmanship.

The model has 3 flights on it prior to the photo and is powered by an AMT USA Pegasus engine.
---

David Skillings of Portland, Maine owns this beautiful F-100D powered by an AMT Pegasus. To the left of David is Tom Chabot, the builder of the model.

---
Ian Richardson of Perma-Grit Tools built this beautiful F-100D and joined up with Steve Elias for Top Gun '02, finishing 2nd in Team Scale. Ian's F-100 is finished with BVM Metal-Kote.
---
Joe Grice has been working on this project for about a year and has "fine tuned" the art of duplicating an all Aluminum aircraft.

Joe used "Flite-Metal", a lot of Flite-Metal, a little Coverite Presto, some BVM Hot Section paints and an enormous amount of time to affect the most perfect illusion we have seen.
And it flies?

The F-100D is powered by an AMT AT-450 Olympus engine - the first "D" model to receive this engine. It worked flawlessly, as it must to be worthy of installation in such a great model.

A JR 10X was used for control of all the normal functions, plus an operable canopy, tail skid, flaps/slats, wheel brakes, speed brakes, landing lights and drogue chute for landing rollout.

We will publish how all of this was accomplished at a later date.

Thanks to Mitch Weiss for the superb photography.
---
Now check out Mitch's Top Gun '02 entry.
It has flown in primer and now sports a Vietnam Camo scheme. Very very nice!

Click to read more about the first flights on Mitch's F-100.
---

Mr. Takashi Komuro from the Sagamido Corporation in Japan participated in the recent World Jet Masters with his BVM F-100D. Takashi chose to use the new BVM Metal-Kote paint. This beautiful photo was taken with Mount Fuji in the background. Click to enlarge the photo. Thanks to Mr. Komuro for the photo.



Jack Diaz's (Venezuela) BVM F-100D on its ninth flight. Top flight speed so far is about 190mph with a lot of slow speed practice for landings. The model will now be finished with the BVM Metal-Kote™ system.


Jack plans to bring it to Superman week.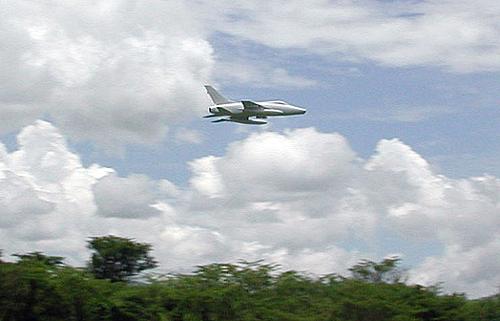 Typical F-100 "on speed" approach.
---
We received a call from Paul Bageman telling us about his first successful F-100 flights. Paul applied some extra effort to make his canopy open and close by remote control and he proved that it actually stays down and locked in flight.

BVM is taking the hint from Paul and Joe Grice on this issue and will make some precision parts available to other F-100 enthusiasts who would like the operable canopy option.

You can look for both of these AMT powered Huns along with a few others to debut at Superman week '02.
---
Chris Huhn logged the first 5 flights on his F-100D July 21-22 using a Jet-Cat P120 for power. The model is in primer now, but will receive a Thunderbird paint scheme for Superman 2002.
---
Rich Fong sent this photo for our posting. He says that he is continuing to accumulate flights on it. The markings are of course by ProMark. Congratulations Rich on this beautiful F-100D.


Some new external stores like Bullpup missiles, Mk-82 bombs, AIM-9 missiles with dual launcher and a tail hook will be shown here soon.
Contact Us
All graphics, photos, and text Copyright 2016 BVM, Inc.
Use of graphics or photos without written permission from BVM is strictly prohibited.