This section is dedicated to our customers that have let us know how much BVM and its representatives are appreciated.
During my visit to Kalispell, Montana in 2015 I got to meet Kelly Rohrbach's sons, Patrick and Klaus. Both of these young men are avid model builders and pilots and represent the future of our jet modeling hobby. Their dad is an expert craftsman and is passing along his skills.
Thanks Kelly for sharing the memorable photo with us.
Bob Violett
---
From: Peter Iozia
Sent: Wednesday, February 10, 2016 3:20 PM
To: Patty Generali
Subject: Bobcat
Hi Patty,
I received the Bobcat today and as usual, it is beautiful. BVM's QC is beyond a doubt the best in the industry.
Thanks Again!
Peter Iozia
---
From: Mike Oberst
Sent: Monday, August 25, 2014 10:12 PM
To: Patty
Subject: Harley Condra
Hi Patty-
I'm not one to give a compliment very often, but I feel compelled to do so concerning your representative, Harley Condra.
I can't remember when I have run into anyone as knowledgeable, courteous, and always willing to help as Harley is. He goes above and beyond to help whenever a question should arise. As a business owner myself, I would dream of having someone on my team like that. He is, for sure, an asset to your business. Rest assured-he is flying the BVM flag proudly for you.
Please make sure Bob gets a copy of this.
Sincerely-
Mike Oberst
---
From: George Kreyling
Sent: Friday, March 14, 2014 1:22 PM
To: BVM
Subject: Re: Bandit Photo
Thanks Heather.
Please pass along to Bob how much I appreciate the service BVM provides. In today's internet world it's nice to be able to call and get some advice or question answered.
George
---
From: Doc Moore
Sent: Sunday, March 09,2014 6:20 PM
To: Patty Generali
Subject: Clevis Pliers
Patty:
I received my new clevis pliers last week and I've got to tell you that his new tool is one of the finest items to come out of the BVM factory. Absolutely ingenius!
For all us old guys with arthritic fingers the pliers put the fun back into rigging control surfaces. That and the special drill bit that Bob had the foresight to include, make this tool the greatest thing since sliced bread!
I continue to have great admiration for the products BVM turns out. You guys never rest on your laurels when it comes to improving your product line and that is refreshing in today's business world.
Thanks again for a great product. Every jet modeler needs a pair in his workshop.
Doc Moore
---
---
From: Smith, Gregg A
To: Patty
Sent: Tuesday, May 28, 2013 2:35 PM
Subject: Receipt of my Ultra Bandit
WOW!
First off, everything arrived in perfect condition last Friday.
I was certainly amazed when I unpacked everything over the weekend! I had every intention of starting the build, but mostly read the manual, stared at the quality of engineering, design & workmanship. Then I had friends over and they stared at it too. None of us have ever seen anything like it. You might get tired of hearing it- but your products are truly the best in the industry & I want to thank each and every one at BVM for the quality put into my Ultra!
Iím not sure how I ended up with a Bob Violett Signature Series jet (nor ever seen one before), but it sure added to the WOW Factor for me.
Thanks again- Iíll send a few pictures when I finish staring at it and actually finish it.
Gregg
---
From: Ramon Lozano Yuste
To: Patty Generali
Sent: Thursday, July 19, 2012 6:22 PM
Subject: Raul ( KY )
Hello Patty,
How are you? I hope you are doing well. I just want to tell you thanks for all your help and your friendship. We appreciate it. I am sending you some pictures and one video, I hope you like. Again, thanks for all.
Raķl
---
From: Roger Ko
To: Patty Generali
Sent: Tuesday, March 06, 2012 12:01 PM
Subject: Re: Quote # 2094
Patty,
Nice to meet you and the rest of the BVM team. Like I told Dustin, it's rare to find a small company with top quality products & people, and homegrown on top of that. I honestly don't want to own anything that isn't BVM because I just don't have the time to tinker & wonder if something actually works. Order confirmed! I think my fleet is complete for now!
Cheers,
Roger
---
From: Harold
Sent: Wednesday, March 14, 2012 8:52 PM
To: Patty Generali; Heather (BVMJets); Dustin Buescher
Subject: Thank You so Much
To all at BVM Jets,
Thank You so much for being at Florida Jets this year. James and I really enjoyed seeing the BVM Jets fly this year. Gary and Heather, thank you for being so nice and for your hard work. It really was a great week. All the BVM crew took time to answer any question I had about all the jets.
I really enjoyed the Phantom flight by Tom Woods, it was a great flight! Tom had plenty of time to talk to me after the Phantom flight. Dustin is such a great pilot, I watched all his flights. I also would like to let BVM know what a good time I had talking and flying with Dave Malchione. He always was so nice to spot for mine. I am so glad he spent his time to come down to Florida Jets. Dave has been a good Rep answering my emails and all my phone calls when I was gearing the jets up for Florida Jets.
Heather or Patty, please forward this email to everyone at BVM.
Best Regards,
Harold and James Little
---
From: Hans-Peter Hofer
Sent: Wednesday, January 04, 2012 3:06 PM
To: BVMJets.com
Subject: BVM Team
Hi Patty, Hi BVM-Team,
I just received my parts today and all I can say is - WOW! What nice wheels, what perfect brakes, what precise axles, what detailed instructions to assemble the parts! That is the way to do it and everything is worth every cent spent on it! Congratulations!! Perhaps you guys remember me since I visited your place back last summer (together with my little son) and Bob took his time to show me around your factory - impressed I was then and impressed I am now - you all do a very good job and you produce top notch products!! I will be back doing business with you.
Thank you and Kind regards from Switzerland.
Hans-Peter
---
---
From: Greg Foushi
To: patty@bvmjets.com
Sent: Monday, November 22, 2010 6:12 PM
Subject: Thank You!!!
Dear Bob & BVM Team,
I wanted to send you a letter and thank you for helping me get started into the World of RC Jets. Harley was great in explaining the BVM & Sky Master products. He also spent time with me at the field, educating me on his own personnel Jet which I appreciated. Patti was great to deal with in ordering my jet and all the accessories. She kept me updated on my jet delivery and was great to deal with. Dustin is an excellent instructor and test pilot. I received great tips on my Jet and programming my radio. I really appreciated his time of reviewing all the safety concerns and procedure with operating my jet safely. My Sky Master Viper is an awesome jet!! Iím looking at many great flights with itÖ Now, the difficult partÖ Whatís the next BVM jet to buy?? I just want to say thanks to you and the BVM Team for making my first jet experience truly a great one. Itís opened a whole new part of the RC hobby to me. I had always heard that BVM Jets are the best in the market. I now having a first hand look into BVM your reputation is well deserved.
All the best,
Greg Foushi
---
---
---
---
---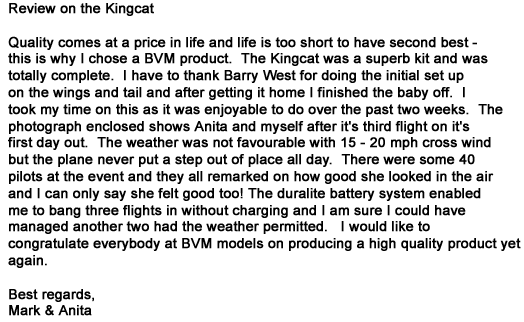 ---
---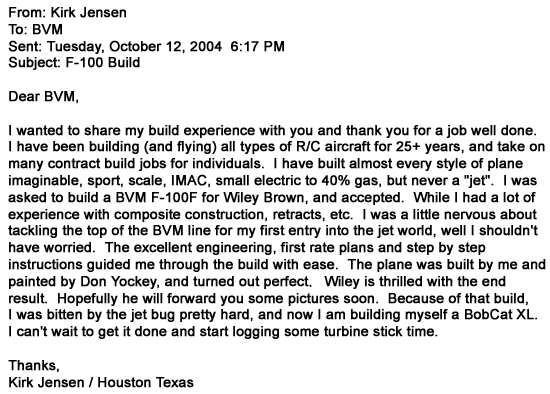 ---
---
---
---
---
---
---
---
---
---
---
---
Contact Us
All graphics, photos, and text Copyright 2016 BVM, Inc.
Use of graphics or photos without written permission from BVM is strictly prohibited.