"I'll be honest that BVM MiG15 is one of the best flying electric jets I have ever owned."
Terry Nitsch
Ohio
Terry Nitsch won First Place in Expert Class at the Columbus Scale Classic.
---
From: Captain Ralph
Sent: Thursday, January 23, 2020 10:52 PM
To: Patty@bvmjets.com
Subject: Hot shots Mig 15
Hi Patty
This BVM MiG 15 was built in Greece by Zenon Plerides in June of 2005 and purchased by Dr Shani Studnik a few years later ( see earlier MiG-15 hot shot testimonials). I then acquired the MiG from Dr Studnik and did a complete tear down and rebuild including a full 3D printed cockpit and animatronic Pilot. The BVM jet is now pushing 15 years of age and is still going strong. Just wanted to share the obvious quality and engineering placed on the BVM Jets....
Hope the MiG will fly for another 15 years!
Captain Ralph Esposito
UPS Airlines
---
2019 National Championship Winner!
Terry and Shiela Nitsch won the Fun Scale Expert Class at the A.M.A. NATS event. The expert class had the most competitors of the scale classes. It was a very close competition and they won by 1/4 a point.
Terry said he is "Very proud to have accomplished this victory with a BVM Jet!".
Terry Nitsch and Jason Bauer proudly display their awards after a tight finish at the NATS. 1/4 point separated Terry and Jason.
Congratulations to both of them.
---
Congratulations Terry and Shiela Nitsch on your First Place Finish at the Central Ohio Scale Classic with this
BVM MiG-15.
---
Terry Nitsch and Shiela continue their winning ways in the Ohio area.
A five time winner at Top Gun events, Terry knows how to prepare the model and a flight routine that garners attention from both static and flight judges. This BVM MiG-15 is powered by an EVF 14S 9er blade fan with ThunderPower "Rampage" batteries. The model features wing tanks, speed brakes, retracts and flaps.
Terry says that the performance is awesome and flight times are 8-10 minutes. Shiela holds the 1st place award at the "Columbus Scale Classic".
---
Terry Nitsch won "Champions Class" at the Bob Evans Fly In and Scale Competition with the MiG. He also had many turbine demos with the KingCat. Terry said it was a great weekend down on the farm!
---
Jo and Jonathan Smith sent along this photo of Mo Ayoub with his BVM MiG-15. Mo celebrated his 86th birthday by flying this JetCat 100 powered all composite MiG-15. Mo's home is in Lubbock, Texas but he spends a few winter months in Surprise, Arizona to enjoy his hobby. At 86, Mo just might be the most senior jet pilot in the world!
---
From: Terry Nitsch
Sent: Monday, August 22, 2016 9:22 AM
To: Patty Generali
Subject: 1st Place Finish at the Columbus Scale Classic
Patty,
First place finish once again at the Columbus Scale Classic with the E-Mig. The aircraft performed great in some tuff crosswinds and is great on grass fields. Love this jet!
Terry
---
From: Terry Nitsch
Sent: Monday, June 27, 2016 10:30 AM
To: Patty Generali
Subject: NATS Win
Patty, 3rd National championship with the E-MiG. This year's event was held at a new grass site and the aircraft performed wonderfully! Thanks for the great product!
Terry
---
From: Paul Zurawski
Date: August 18, 2015 at 10:03:54 EDT
To: Patty
Subject: Mig15
Hi Patty,
This is the BVM MiG15 I bought from another jet pilot several years ago. This MiG was the company demo plane flown in Top Gun 2005. Over the last several years I updated the servos, electronics and air system. I am using the BVM E-Brake system that works perfect. A Jet Central Rabbit powers the MiG, and guidance is with a JR 11X radio. I have flown it at the RC Club at WPAFB several times. This aircraft flies absolutely perfectly. This is now my favorite jet....maybe until I get the Thunderbird Bandit flying next spring.
Sincerely
Paul Zurawski
---
From: Ron Engstrom
Sent: Wednesday, December 3, 2014 8:37 PM
To: BVM
Subject: Mig-15 Maiden
Bob, Patty, Dustin and Crew,
After about a 4 year build, I finally maidened my Turbine Mig-15 with the help of Jack Diaz. He is an incredible asset. A little up trim and flew like it was on rails. Great kit....
Thank you,
Ron
Editor's note:
This model was built from a BVM AFS kit. The new MiG-15 ARF requires much less time and it's painted in-the-mold.
see www.BVMJets.com/MiG ARF
---
From: Sean McHale
Date: October 6, 2014 at 6:58:00 AM EDT
To: Dustin Buescher
Subject: Best Electric Award at the Hamburg 2014 Jet Rally

Dustin,
Harold asked that I email you this photo of him with his deserving best electric award for his MiG. He charged and flew non-stop all weekend with a number of BVM jets no matter what the weather. Great stuff!
Cheers,
Sean
---
From: Terry Nitsch
Sent: Monday, July 14, 2014 9:56 PM
To: Modelers@bvmjets.com
Cc: 'Patty Generali'
Subject: 2014 Nats win
Bob and Patty,
Two for two at the NATS with the E-MiG. The 14S "Niner" performed flawlessly and the power was very beneficial in the windy conditions. The event was extremely competitive and it was an honor to win one for the "Home Team". Big thanks to BVM, Horizon, and Thunder Power for the support and great products.
Terry and Sheila Nitsch
NOTE: This is the 2nd year in a row that Terry won the NATS Scale Event with his BVM E MiG
---
Terry Nitsch and his BVM MiG-15 after winning the Pilot's Choice Award at Fan-Fair 2014.
Power is an EVF ~3~ 14S "9er". Everyone there was impressed!
---
From: Jamie Snipes
Sent: Saturday, May 10, 2014 8:00 PM
To: Patty Generali
Subject: Harold Little awards
Patty,
I wanted to let ya'll know about Harold Little ... he and his brother James have a fleet of BVM EVF jets and are great guys.
Harold is a "give-you-the-shirt-off-his-back" kind of guy and loves his BVM EVF jets.
In the last couple of weeks he won the Best Electric jet award at Mississippi Afterburner and just won the Best Scale Jet award at the EVF event in Muncie today. (10 May 2014)
He is way too humble to ever let ya'll know so I thought that I would. Each of the awards were for one of their two BVM Mig 15's but he has also been flying the heck out of their two Electras and e-Bandit.
I've attached a few photos.
---
From: Dave Evans
To: Patty Generali
Sent: Friday, May 17, 2013 9:37AM
Subject: AFS MiG
I just wanted to take a minute to say thanks to the team that created and supports the MiG. I purchased a half-build AFS MiG last spring and finished it up in the Red Bull livery. I'm happy to say the plane flies extremely well and has great presence in the air.
It's powered by a JetCat P-120SX (we need a little extra power with the high density altitude in Vegas), a JR 1222 Power Safe rx, and is outfitted with JR servos.
A special thanks to my buddy Dave Bottita who was an immense help with the paint. He's pictured on the right in the dry lake bed photo (the maiden flight).
I recently packed the plane up in a Jet Case and took it to Mississippi Afterburner with me. Unfortunately the weather was terrible the first few days, but on Saturday I was able to put eleven flights on the jet... not too many manufactures can claim their planes will consistently fly that many times with just fuel, air, and radio battery charge(s)... thank you guys!
Sincerely,
Dave Evans
---
From: David Soufer
To: Patty Generali
Sent: Monday, February 04, 2013 2:06 PM
Subject: MIG-15
Hi Patty,
Last weekend I maiden the MIG-15. It just needed a few clicks of left and a few clicks of up elevator. The EVF-3-12 performed flawlessly and I was flying most of the flight on half throttle…
Even though the MIG has functional "speed boards", I did not use them to slow the jet for landing. Greg Fullington did an excellent job in assembling and Ron Derhacopian did an immaculate job on the "Speed Board" cut-out and mechanism…
Thank you for all your help… Look forward to my next BVM Jets

David Soufer

---
This beautiful EVF ~3~ 12S powered MiG-15 ARF was assembled and geared up by Harold and James Little of Marshville, North Carolina. Dustin assisted with the first flights at the R.C.A.C.F. facility in February 2012. Perfect results of course!
---

click on image to enlarge
From: Shani Studnik
To: Patty
Sent: Thursday, January 03, 2013 7:42 PM
Subject: MiG 15
Dear Patty and Bob
Just wanted to drop a quick note about our first BVM MiG 15. We bought it from Zenon in Cypress. We test flew it today and after 8 flights we both agree its a great flying jet!!!
Best regards,
Dr Shani Studnik and William Saraceni
---
From: Jack Diaz
To: Patty Generali
Sent: Monday, October 15, 2012 6:44 PM
Subject: Mig pictures
Hi Patty,
Here are some in flight pictures of my early MiG-15. Jon Barnes is the photographer and he did an amazing job.
Later
Gerardo
---
Marcos Liu said that everything went perfectly with the first flights on his MiG-15 with BVM EVF ~3~ 12S power. BVM Rep, Greg Fullington assisted.
---
From: Dennis Grady
Sent: Thursday, March 29, 2012 5:42 PM
To: Bob
Subject: MiG 15 photos
Bob, I have attached photos of my MiG-15. It weighs 20 lbs 15oz with 12s batteries. It is ready for taxi test when we return from vacation.
Aloha
Mike
---

From: Zenon Pierides
To: Patty Generali
Sent: Friday, December 30, 2011 3:18 AM
Subject: MiG 15
Hello Patty,
I wanted to share with you these recent pictures that were taken with me flying my Mig15 which was purchased from you 2005 and built then by me. You already have some pictures of my Mig15 when it was finished at 2005 in your hotshots, but these are better! As you can see it's still flying and also gets all the attention on the ground and in the air. It's painted with Metal Kote II. It's powered with a Jet Cat P120 all JR servos and 12x receiver with JR 550 Gyro! I also want to wish you and BVM a "Happy New Year"!!!
Best Regards,
Zenon Pierides
---
From: Justin Sands
To: Patty
Sent: Tuesday, March 09, 2010 2:31 PM
Subject: Hey there!




Thanks for getting me the MiG part so fast. I am off to install it and practice for Top Gun. Its great to know I can get the right part the first time!

See you soon!
Justin Sands
---
Alex DuPuy of the Dominican Republic powers his AFS MiG-15 with a JetCat P-70 turbine. Alex is enjoying the way the MiG grooves in flight and this model was built by David Schwantz.
---
Woody Hopler of Hawaii sent in these photos from his test flights with his P-60 powered MiG-15. Woody said the MiG flew exactly as advertised and was setup per the plans. The JetCat P-60 provides scale performance and is very economical with 3.0 Liters of fuel on board. Photos by Eric Wu.
---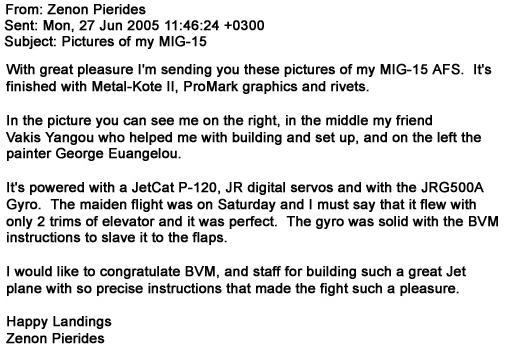 The history of this MiG-15 with American Insignias:
A North Korean fighter pilot named Lt. Kum Sok No flew his MiG-15 across the border to South Korea to land at Kimpo Air Base. His effort was to escape the oppression of communism. After his daring flight, he learned that he would receive a $100,000.00 reward from the U.S. government.
Lt. No resides in the USA and has worked in our Aerospace industry.
The U.S. Air Force used the MiG in many flight tests to evaluate it against our Sabre jet. U.S. pilots including Chuck Yeager flew the MiG and were impressed by its superior climb, rapid acceleration and high altitude capability.
According to our source "Planes of Fame", the U.S. pilots still preferred the F-86.
---
Lee DeMary of Denver, Colorado has been enjoying his MiG-15 for many years and recently sent in these photo's. The paint scheme was done in honor of Jack Whilhites MIG-17. Jack still flies his MIG at airshows, and for "you pay the fuel" local rides (in Colorado).
---
Mark Hinton is the proud owner of this MiG-15 from England and recently won a few awards at a local scale meet, including best cockpit. He relayed to us that the BVM MiG-15 is a true joy to fly.
---

Steve Unze is a great craftsman and it shows. He recently finished his MiG-15 with Coverite Presto and it has many scale features.
---

Ricardo Gomez and Dr. Julio Moron from Caracas, Venezuela have quite a few BVM jets, the latest being the MiG-15 that is flying on RAM power.

---

Simon To's MiG-15 is finished in Metal-Kote with many Pro-Mark rivets and a JetCat P-120 for power. Steve Jaworski of Lakeland, Florida built and finished this beautiful model.
---

The MiG-15 won 3rd place at the 2nd World Jet Masters in the hands of its designer, David Ribbe.
---

World Jet Masters team scale champions John Tapin and Ian Richardson put it all together with their AMT Mercury powered MiG-15. This color scheme is a great one because of its simplicity and high visibility. Ian used the Coverite Presto chrome film and some very impressive skin detailing techniques to finish the "High Static" scoring model. This was the 2nd World Jet Masters win for this very successful team. We are sure glad they chose a BVM jet.

---

Changatip Seevaranont and Piyasin Changtrakul from Thailand pose with their MiG-15's.

---

Top Gun '99 showed lots of MiG's in the competition field. The MiG continues to be a strong competitor in international competitions.
---

Geraldo and Jack Diaz of Venezuela frequently visit the USA with a BVM jet or two. This MiG was built and flown by Geraldo in Top Gun. Thanks to the BVM Jet Case, there was no trouble bringing the MiG to the event.
---

Dave Malchione takes to the sky with his Russian parade MiG.
---

2 MiG's ready for a formation takeoff. Bob Violett is piloting the red MiG while Tom Dodgen is flying Sam Snyder's silver MiG.
---

Gordon Dickens of Alpharetta, Georgia travels to many of the jet meets and here he shows off his MiG-15 that is JetCat powered. Gordon flies many different BVM jets.
---

Camera man caught Skeet Hunt by surprise. This new MiG-15 was flown for the first time at St. George with help from very experienced MiG pilot Tony Frackowiak. Anybody that has ever flown a MiG loves them. This one is powered by an AMT Mercury.
---

John Redman has won numerous awards with this scale weathered MiG-15. He has it functioning perfectly with JetCat P-120 power and a wing tank release system. The model looks absolutely real and appropriately camoflauged when flying against the desert background.

BVM receives many "letters of compliment" for John's assitance with their BVM jet projects.
---

Bob West and son Mark enjoy the jet events with Mark's uniquely decorated MiG-15. Great future in jet modeling for the young drivers.
---

Jay Smullen is a Florida jet pilot that puts his MiG through its paces. Jay added the wing tanks and has all the scale details to make his MiG stand out in a crowd.

---

Marc Piette is having great success with his brilliant orange MiG-15. Young Marc (17yrs old) is a very competent pilot.
---

Kevin Marks is an active jet modeler in Arizona and shows us his MiG-15 that uses AMT Mercury power.
---
Sam Snyder from Tyler, Texas created the most scale MiG-15 yet. Cockpit and speed brake detail are just part of the story. This MiG deserves very close inspection if you get the opportunity at a future jet event.
---
Darryl Tarr from the UAE acquired this beautiful MiG-15 through the turn key jets section of our website. The model was built by Conrad Gallegos and uses a RAM 750R for power. Darryl uses his JR 10X in all of his aircraft.
---
Laura and Dr. John Baylon
another successful MiG-15
Build it according to the instructions, check the website for addendums, call BVM with any questions, have a BVM rep check out all of the systems and then go for the first flight - results, it works everytime!

John and Laura are from the Cleveland, Ohio area but spend a few winter month's in Orlando, Florida affording a great opportunity to have the BVM factory guys help with the first flights. Tom Dodgen, our most experienced MiG pilot did the honors after a thorough check out of the model, JR radio installation, engine running range check etc.

The RAM 750 worked flawlessly. Fine adjustment of the C.G. was accomplished with 1oz of lead in the tail and two or three clicks of aileron trim was all that was required.

John did a great job building the MiG and applying the popular and very visible Parade paint scheme. He likes to take advantage of the JR "Pilot Link" system to gain experience the safe way with his new jet.

The MiG flies great at 1/2 throttle and with the addition of the new Ultimate Air Trap (U.A.T.), it has over 10 minutes of flight time available from its 3 Liter fuel system.
---
Rod Springer from Idaho recently won the Best Scale - Turbine award at the Deer Lodge Fan Fly with his BVM MiG-15. Not bad for his first turbine powered jet! Rod uses a RAM 750+ to power his MiG.
---
Simon To from Hong Kong poses with his beautiful turbine MiG-15. Simon competed in the 3rd Annual World Jet Masters with this aircraft.
---

Here is John Tappin (left) and Ian Richardson (right) with Ian's award winning MiG-15. Ian built the model and John flew the model to 1st place at the World Jet Masters.
---

Mitch Weiss used thousands of rivets and ProMark transfers to complete his new MiG-15. An AMT Mercury with autostart gets the MiG off the ground with power to spare.


---
Here is Frankie Mirandez from Puerto Rico with his 2 sons and his newly finished BVM MiG-15 and Bandit - both powered by RAM 750F's.
Contact Us
All graphics and photos Copyright 2016 BVM, Inc.
Use of graphics or photos without written permission from BVM is strictly prohibited.