Kits Available:
F-80
ARF PLUS "1:4.5" F-80 Shooting Stars Complete Kit
Order/Deposit Policy
Length: 87" (2212mm)
Wingspan: 98" (2500mm) + wing tanks
Power: 27-38lb. (12-16kg)
Dry Weight: 38-45lbs
Radio: 9-12 channels
Kit Price
$1,795.00 (unpainted) #AF800
$2,295.00 (painted)
Thanks to Ken Isaac of RCUniverse.com we can share with you this sequence of a fly-by and approach to landing for the Skymaster 104" F-80. Notice the correct fuselage attitude just prior to touch down. Power management is the key.
The Skymaster F-80
A review by Dustin Buescher
On September 1st, 2010, a prototype Skymaster F-80 was delivered to BVM. Upon delivery we opened the box to check the contents for damage. The large kit was packed in a surprisingly small box that allowed the aircraft to arrive unscratched. Due to our event schedule, the project was put on hold until we had returned from E-Jets. Then Chris Keene and I began to examine the prototype parts. What we found was a well engineered and strong airframe thanks in part to the cooperation between Skymaster and BVM during the structure design of this model. Before production is started, Mr. Anton Lin approached BVM for suggestions to improve his structure. A few modifications were made, and the rest is history.
A week before Monster Planes, it was decided we would push to get this project finished and test flown. We had to work long days and into the night to develop component trays and mounts that would be easy for other modelers to install and replicate. Every step along the way was thoroughly documented and will be available as a BVM upgrade package.
The completed project yielded an aircraft that weighs in at 43.5 Lbs dry. The F-80 can be powered by JetCat P-160SX. The radio system installation in this model is very neat. We opted to use the new Spektrum Powerbox 12K. The unit features an all-in-one receiver, dual regulators, servo matching, and info display.
The landing gear system is very robust, and the pneumatic tires are huge. The struts are the usual air over oil that has become almost standard on all of the large Skymaster product.
The optional sliding canopy and cockpit are somewhat tricky to install, but the BVM supplemental manual will take the guess work out of these steps.
Flying
The F-80 is a joy to fly. At 44 lbs. the aircraft handles like a trainer. This is a "goes where you point it model", our prototype model took no trim and by the second flight I had the flaps set where I wanted them. I now have about 15 flights on this bird and I bet you cannot rip the transmitter from my hands!
Dustin Buescher
Skymaster T-33 / Test Pilot & Designer: Anton Lin
Details:
Scale Flap Inners
Full Scale Slat Speed Brake
Scale Gun Holes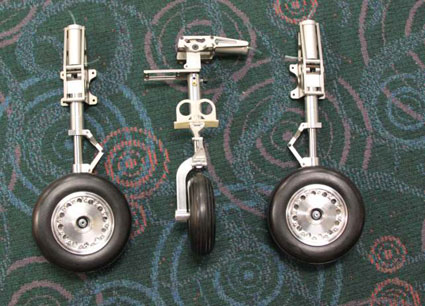 Scale L/G for F-80 $ 1,495.00 with kit order $1,695.00 Retail #TP811
Air Kit for F-80 $ 195.00 Order No #TP812
Kevlar Fuel Tank Cell for F-80 $ 150.00 / Order No #TP813
Tailpipe for F-80 $ 165.00 / Order No #TP814
Hardware for F-80 $ 65.00 / Order No #TP815

Options:
Gear door set for F-80 $ 75.00 / Order No #TP816
add cockpit for $150.00 with kit purchase (w/o pilots) Retail price $295.00 part # TP817

Carbon Fiber By-pass for F-80 $ 75.00 USD / Order No #TP818
Opening Canopy for F-80 $ 95.00 (installed) / Order No #TP819O
Slat Speed Brake for F-80 $ 95.00 (installed) / Order No #TP819S
Upgrade to Aluminum Hinges for Main Gear Doors $29.50

Call for freight quote
Paint Schemes:
# AF801 $2,295.00

# AF802 $2,295.00

# AF803 $2,295.00

# AF804 $2,295.00

# AF805 $2,295.00

# AF806 $2,295.00

# AF807 $2,295.00

# AF808 $2,295.00

# AF809 $2,295.00
PRICES SUBJECT TO CHANGE WITHOUT NOTICE
Contact Us
All graphics, photos, and text Copyright 2016 BVM, Inc.
Use of graphics or photos without written permission from BVM is strictly prohibited.