ARF PLUS "1:7" MiG-29 Complete Kit
Order/Deposit Policy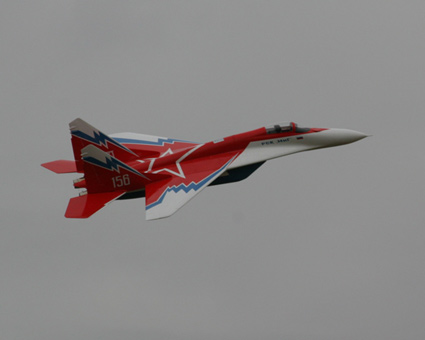 Length: 92.5" (2350mm)
Wingspan: 68" (1700mm)
Dry Weight: 34-36 Lbs (15.5-16.5 Kg)
Power: 34-40 lb (16-18 kg)
Kit Price
$1,495.00 (all gray gel coat) part # MG291
$1,995.00 (professional external painted)

Kit Features:
Carbon Fiber tube plug-in for wing spars

Aluminum tubes for elevator

Carbon Fiber for vertical fins shaft

All live hinging with precision gap sealing

Very scale surface with details and full rivets

Super light and very strong
New vector thrust nozzles for MiG-29 3D SEBA version
Scale Landing Gear $1,495.00 with kit purchase, $1,695.00 Retail part # AP921
Designer: Li Kai (Made in Taiwan)

Air Kit $195.00 part # AK921
Kevlar Fuel Tank Cell $125.00 part # AP932
Tailpipe (for P-120-P-160) $250.00 part # AP923
Hardware set $65.00 part # AP924
Cylinder set for gear door $75.00 part # AP925
Order the Pro version for an additional $195.00 - Landing gear and gear doors factory installed.

Scale landing gear with gear doors installed at factory for Pro version.
Options:
add cockpit for $99.00 with kit purchase (w/o pilots). Retail price $295.00 part # AP926

Tailpipe with VT nozzles for MiG-29 SEBA version (for P-160-P180) $495.00 (AP923VT)

Call for freight quote

Paint Schemes:
# MG921 all gray gel coat $1,495.00

# MG292 $1,995.00

# MG293 $1,995.00

# MG294 $1,995.00

# MG295 $1,995.00

# MG296 $1,995.00

# MG297 $1,995.00

# MG298 $1,995.00

# MG299 $1,995.00

# MG299B $1,995.00
PRICES SUBJECT TO CHANGE WITHOUT NOTICE
Contact Us
All graphics, photos, and text Copyright 2016 BVM, Inc.
Use of graphics or photos without written permission from BVM is strictly prohibited.