Jet-Foam Cradle | Customer Hotshots | Touch-Up Paint | Addendums | Central Control Unit (CCU) Instructions | What is Go Fly Gold? | Customer Hotshots | Color Schemes
BVM PNP L-39 Albatros
PRICE $7,599.00
includes freight shipped within the USA
Includes NEW BVM branded Servos
Competition Proven at Top Gun 2016
The BVM L-39 was first shown at Top Gun 2016 and placed 4th in the very competitive Pro-Jet Class. A few more refinements that are included in the production models were demonstrated at "First In Flight". This straight wing jet has excellent slow flight and landing characteristics.
Specs:


Scale: 1/5th
Length 94"
Wingspan 74"
Weight: 32 Lbs Dry
Power: 140 Newton Turbine
Special Features

A good size that is large enough to see, yet it can be loaded into a vehicle by one person.

BVM internal airflow design allows very cool operation.

True shock absorbing scale landing gear.


Light system installed - really helps on landing approach.

Easy access to fuel system, batteries, radio, and engine.

Straight wing jet - excellent slow flight and landing characteristics.

Servos and linkages installed

Add engine, receiver, and batteries.
BVM Servos Now Installed in
Models
BVM servos (32kg) are now installed in our L-39 model.
The NEW BVM Servos offer a higher resolution than the previously installed servo's.
The 32kg are HV, Digital, and Brushless.
Made by a well known manufacture in Taiwan.
Only available with a
model purchase. Not available for individual sale.
BLS 320 Specifications:
Torque @ 7.4v - 32.0kg/444.4oz-in
Speed @ 7.4v - 0.12 sec/60 deg
Refresh Rate: 333Hz
Motor Type: Brushless
Resolution (4096)
| | | |
| --- | --- | --- |
| Controls | QTY | Servo Type |
| Steering | 1 | 32kg |
| | | |
| Aileron | 2 | 32kg |
| | | |
| Flap | 2 | 32kg |
| | | |
| Rudder | 1 | 32kg |
| | | |
| Elevator | 1 | 32kg |
| | | |
| Air Brake | 1 | 32kg |
Guides you through the few steps necessary to go from box to flying field.

Call 407-327-6333 to place your order or email to Patty@bvmjets.com


Greg Arnette accomplished the maiden flights on his BVM L-39 on 6 August 2016. The conditions at his ranch were perfect, so it was a matter of just a few flights to get the control travels and gyro adjustments dialed in. The BVM manual describes all of the settings and an S.D. Card is available for a Spektrum 18X radio. Of course, every pilot has his preference for expo numbers.
Items Needed To Complete:
Available from BVM
● 140N engine of your choice.

● L-39 Standard Flow 16oz. Header Tank W/Hardware (#PA-SR-0093)

● BVM UAT (BVM# 6044)

● Spektrum 12120 Power Safe Receiver (# VJ-SPMAR12120)

● Spektrum X-Plus 8 Expansion Module (# VJ-SPMXP8000)

● (2) 7.4v Batteries 3000 mAh Magnum Ion (# VU-7304EXB-EC3)

● Demon Aero Cortex Gyro Pro (# V-DA-BD-CortexPro)

● Cortex USB PC Adapter (# V-DA-BD-PC Adapter)
Recommended Accessories:
You may have some of these products in your shop, but if not, refer to this list.


Click Here to see the variety of 12" Tall Pilots that BVM has to offer.

● #2 x 7/16 SSSH (Servo Screws) (BVM # 2865)

● #2 x 3/16 Button Head SMS Package (BVM # 5625)

● Spektrum Flight Log (#SPM9540)

● Fuel Pump/Filter Mount (# PA-SR-0064)

● BVM Over Flow Tank (BVM # 6047)

● Flush Mount Vent Fitting (# PS-SP-0301)
(For Over Flow Tank)

● Flush Mount Vent Plug (# PS-SP-0302)
(For Over Flow Tank)
Set of Wing & Tail Bags $235.00
List of Adhesives/Lubricants/Heat Shield:
PRICE $7,599.00
includes freight shipped within the USA
Includes NEW BVM branded Servos
Custom paint schemes are available for up to a $500.00 artwork, documentation and development fee.
There are many paint scheme options that are not currently on our site. We are working diligently to update the website with all the existing schemes. Please give us a call if you have a scheme in mind to see if it is already in our archive.
Thank you for your understanding and continued support.
# K6400-07 TopGun
# K6400

# K6400-06 Thunderbird

# K6400-01 Breitling
# K6400-02 Blue Angels
# K6400-03 Black Diamond
# K6400-04 Navy

# K6400-05 Red/White
Airframe Directive (A.D.)
And other helpful notes
Engine & Inlet Duct Clarification
(09//2016)
Manuals printed post September 16, 2016 have this upgrade included. Current L-39 owners will receive this
upgrade by email.
Update to L-39 Manual page 17-19.
Click here to open the PDF file
---
Customer Hotshots
click on images to enlarge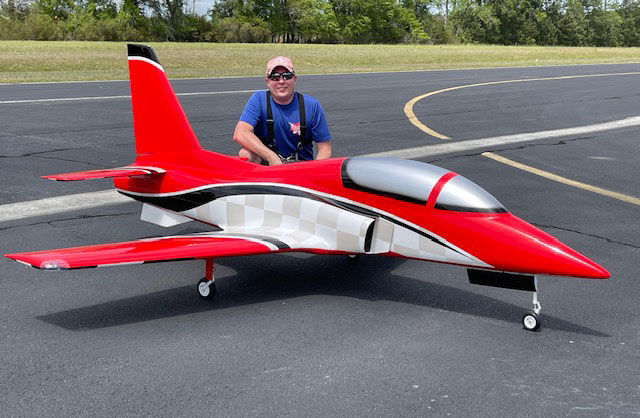 From: Adam Falk
Sent: Wednesday, June 1, 2022 4:53 PM
To: Patty <patty@bvmjets.com>
Subject: Re: L-39 and Renegade Pictures
The L-39 has become a really great scale airframe to fly and always receives many complements on the ground or in the air. The airframe has been detailed with complete placards found on the actual full scale aircraft. Itís powered by Cheetah 160SE, guided by a Spektrum iX-20SE with a Spektrum AR20310T & CortexPro.
The Renegade is an incredibly stable airframe that can handle anything from F3S precision aerobatics to aggressive freestyle maneuvers. Itís powered by a Jetsmunt 250XBL, guided by a Spektrum iX-20SE with a Spektrum AR20400T & CortexPro.
Thanks,
Adam Falk
---
Brian Blois from Colorado was able to get out and maiden his L-39. This is a great looking scheme and shows very well. Brian's aircraft is powered with a KingTech K-160 and guided by an IX20 and a Cortex Pro.

---
Len Todd is getting some assistance from Ali Machinchy setting up the electronics in the BVM L-39.
On-The-Field Support is an important part of BVM and Horizon Hobby event attendance.
---
Juan Vidal from Puerto Rico is all smiles after his maiden flight with his L-39.
Juan is using a Jeti radio.
Contact Us
All graphics, photos, and text Copyright 2022 BVM, Inc.
Use of graphics or photos without written permission from BVM is strictly prohibited